Chicken Orzo Tomato Soup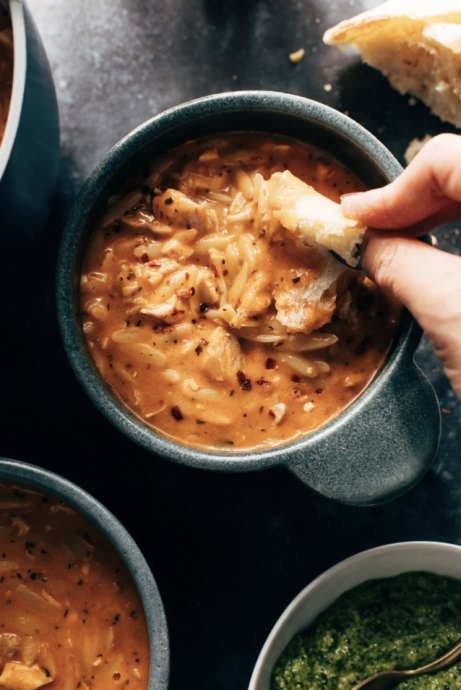 This soup is the perfect ode to fall! Chicken meets orzo in an almost tomato soup form plus lots of bread dips, of course. Let's go!
Chicken and orzo literally never fail. It can do no wrong. And make that chicken and orzo in an almost tomato soup form and you have a foolproof, everybody-likes-it dinner that is practically SOS-level easy.
This soup is a pantry essential with just a few ingredients coming straight out of the cupboards: tomato paste, garlic, broth, and orzo. And this is one of those cases where simplicity just wins.
This chicken orzo tomato soup can be a little bit of a chameleon – you can give it the flavors that you like. You build the base by caramelizing tomato paste and garlic (idea coming from a recipe in a Milkstreet cookbook!) and you can spice to your heart's delight. I like to stay in the mainstream flavor zone for this one with Italian seasoning (almost has a pizza-like flavor to it with the tomato paste and garlic), but I feel like smoked paprika or other more zippy herbs could also be successful. The version I was inspired by in the Milkstreet cookbook had mint as one of the herbs! I wasn't quite ready for the mint jump, but I'm just saying, you have options. Let the spirit lead!
Ingredients:
2 tablespoons DeLallo Private Reserve Extra Virgin Olive Oil
4 cloves garlic, thinly sliced or minced
1/4 cup DeLallo Tomato Paste
1/2 teaspoon Italian seasoning
4 cups chicken broth
salt to taste
1 cup DeLallo Orzo Pasta
2 cups chopped or shredded cooked chicken (I use the pulled meat from a rotisserie chicken)
1/4 cup heavy cream
1–2 cups water as desired
parmesan, herbs, red pepper flakes, and lemon for serving
bread for serving
pesto for serving (optional – recipe in notes)