Healing Curry Butternut Squash Lentil Soup (with a slow cooker option!)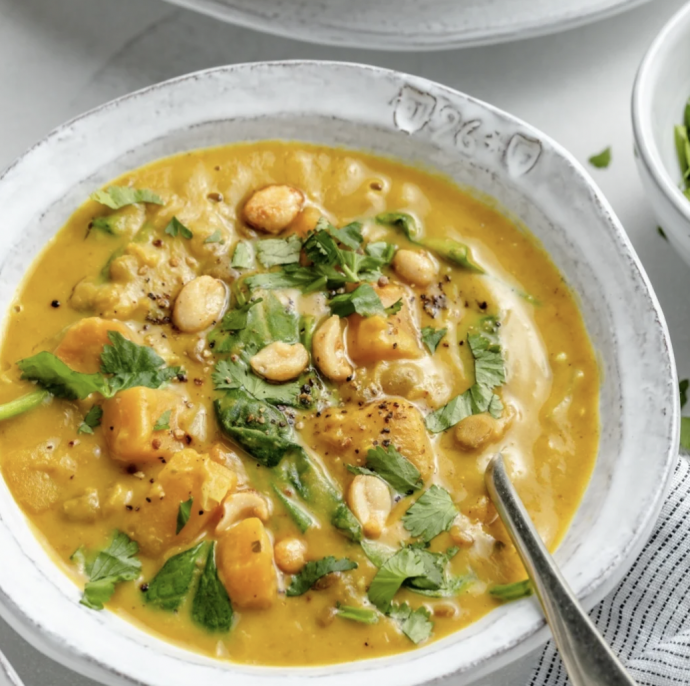 Healing curry butternut squash lentil soup that's vegan, protein-packed, and incredibly nourishing. You're going to love this creamy, flavorful soup that's packed with anti-inflammatory ingredients! Make it on the stovetop or in your slow cooker for ease.
This soup is SUPER easy to make and I even have a slow cooker option for you available in the note section. It's great if you're trying to incorporate more plant-based meals into your diet too. Best of all, this soup is lovely for helping you heal after you've been sick — you'll find plenty of superfoods, anti-inflammatory ingredients and herbs in this recipe. Time to make it ASAP!
Ingredients:
½ tablespoon coconut oil or olive oil
3 cloves garlic, minced
1 tablespoon freshly grated ginger
1 yellow onion, diced
1 large carrot, thinly sliced or diced
1 medium (2 pound) butternut squash, peeled and cubed (about 5-6 cups diced)
1 tablespoon yellow curry powder
1 tablespoon freshly grated turmeric (or 1 teaspoon ground turmeric)
1 (15 ounce) can light coconut milk
3 cups organic low sodium vegetarian broth
1 cup green or brown lentils, rinsed and sorted
2 tablespoons all natural creamy peanut butter or cashew butter
¾ teaspoon salt, plus more to taste
Freshly ground black pepper
3 cups organic spinach