Honey Mustard Shrimp and Potatoes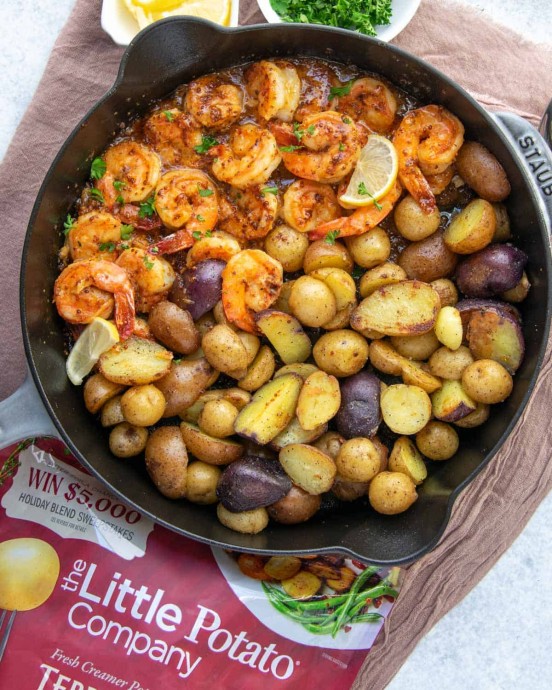 This Honey Mustard Shrimp and Potatoes skillet recipe is a one-pan dinner that's quick, easy to make, and ready in just 30 minutes. Honey mustard flavored shrimps cooked with tender and crispy potatoes for a wholesome meal that the whole family can enjoy.
One-pan meals are easy and versatile for busy weeknights. With the holiday seasons upon us, we all want to make those easy healthy dinners that don't take hours to make! This easy and simple honey mustard shrimp recipe is paired with some crispy and tender potatoes. They are just so convenient, versatile, and super delicious. They are naturally buttery tasting, ready to use with no washing or peeling required, and consistent in size so they all cook up quickly to the same "doneness". This recipe is quick and Simple: all you need is one pan to make this shrimp and potatoes skillet. Takes about 30 minutes or so to make, and simple ingredients you most likely already have. It is also delicious: Juicy and full of flavor honey mustard shrimp with tender, crispy, melt in your mouth potatoes. And it is healthy: No butter, no crazy ingredients needed to make this delicious healthy dinner. Make it even better by serving it with a side of greens.
So much can be paired with shrimp. From roasted veggies, to salads, potatoes, and noodles. For a wholesome meal I recommend a side of roasted potatoes and some steamed of roasted veggies. You can't really go wrong with whatever you decide to pair shrimp with. Place leftovers in an airtight container and store in the fridge for 2-3 days. When ready to eat, reheat in the microwave for 1-2 minutes and serve.
Ingredients:
Honey Mustard Garlic Sauce
1/4 cup honey
2 tbs Dijon mustard
1/4 cup whole grain mustard
Shrimp
1 tablespoon olive oil
1 pound raw shrimp no shells with tail on, deveined
5 garlic cloves minced
1 tsp smoked paprika
Salt and pepper to taste
Potatoes
2 tbsp olive oil
1 lb baby potatoes, halved I use The Little Potato Company's Creamer Potatoes
Salt and pepper to taste