Chipotle Orange Shrimp with Cilantro Rice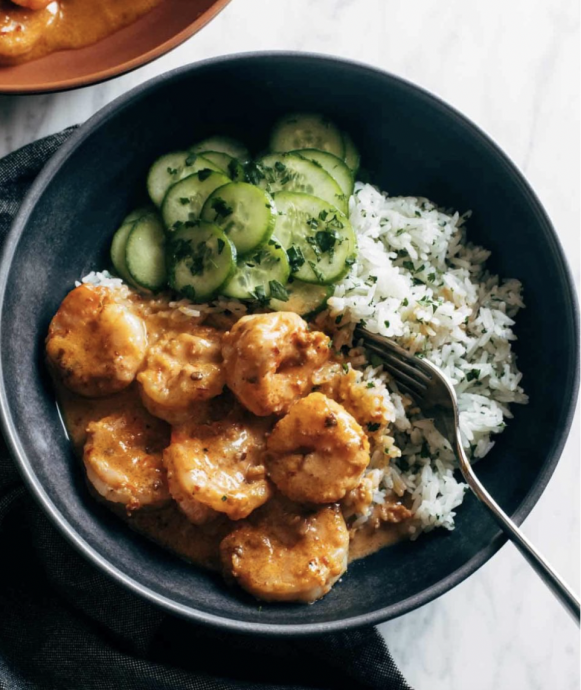 First of all, juicy, tender, sweet, and delicate shrimp is just automatically really SOS-friendly because it's so fast to cook (like, five minutes fast) and tastes like you live at a fancy restaurant. So there's that.
But secondly, that creamy chipotle orange sauce. WUT. It's so good. Who even knew?! It's creamy and smoky and sweet – the flavor combination of fresh orange zest and a bold chipotle pepper is a total surprise and yet feels comforting and familiar at the same time. It packs some heat, for sure, but it's also really luscious and cozy because heavy whipping cream takes everything to the next level and also because a pile of hot steamy rice will never not be comforting. The zippy cucumbers wake the whole thing up and cut through the richness of the sauce with a little zap and zing and crunch.
Ingredients:
Chipotle Orange Sauce:
1 chipotle pepper (or half of one pepper, for a less spicy version)
3/4 cup heavy cream
2 cloves garlic
1/2 teaspoon salt
zest of one orange
Shrimp and Rice:
a drizzle of olive oil
1 pound uncooked shrimp, tails removed, patted dry
1/2 teaspoon cumin
1 1/2 cups white rice (I like jasmine rice or just plain long grain rice)
a big handful of chopped cilantro
optional, for serving: zippy cucumbers