Chocolate Mousse Pie Recipe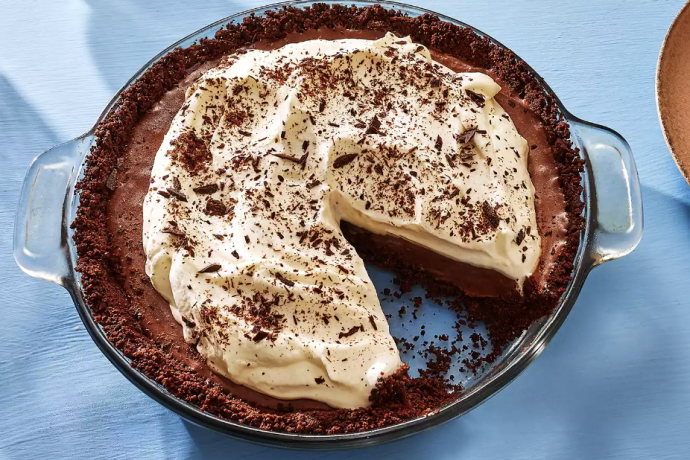 This silky mousse pie is perfect for summer or holiday gatherings. Rather than fussing with individual servings of mousse, we like to switch things up with mousse pie on top a chocolate cookie crust. Unlike pudding pie, which uses cornstarch to thicken it, this mousse pie is made by folding whipped egg whites and whipped heavy cream into a chocolate custard made with egg yolks, giving it a rich and fluffy texture.
It's important to note the chill time for this pie—do not rush it! This pie needs to chill for at least 6 hours, but it's best to chill it overnight to ensure a clean slice when cutting. This makes it great dessert to make-ahead for gatherings.
For a real oh-ah factor, be sure to add the whipped topping just before serving. Of course, there is no harm in topping the pie with the whipped cream before you chill it, but you do run the risk of the whipped cream seeping onto the chocolate pie. Consider adding more toppings to make it even more irresistible, like chocolate chips, peanut butter cups, or serve with a fudgy salted caramel sauce for contrast in flavor.
Ingredients
For the Crust:
Cooking spray
2 1/2 cups chocolate wafer cookies, crushed
2 tablespoons granulated sugar
1/3 cup unsalted butter, melted
For the Filling:
2 large eggs
1/4 cups granulated sugar
1 cup heavy whipping cream, divided
6 ounces semi-sweet chocolate
For Topping:
1 cup heavy cream
1 tablespoon granulated sugar
1 teaspoon pure vanilla extract
1 piece chocolate, shaved