Slow Cooker Orange Chicken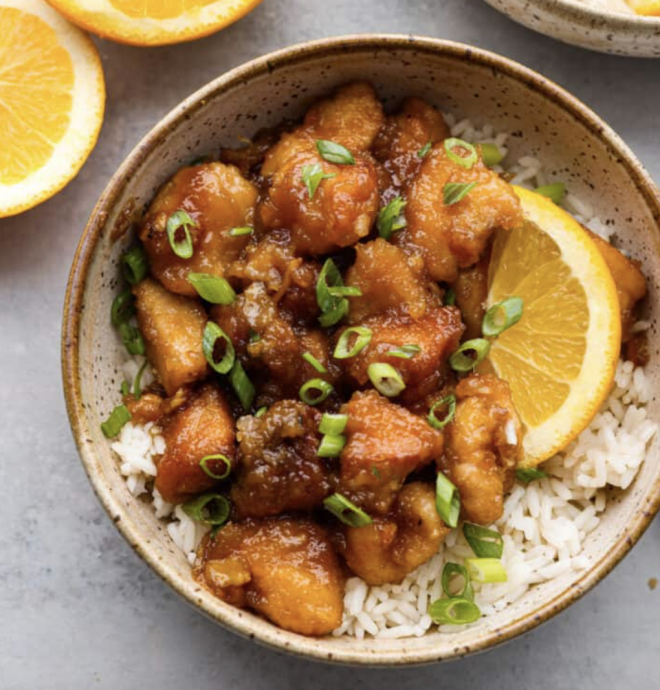 This delicious and tangy orange chicken is made right in your slow cooker and is better than takeout. It's coated in an irresistible sauce that will keep your family asking for this at least once a week!
Orange chicken is one of my family's all-time favorite foods. It has just the right blend of flavors that combine tangy and sweet. And if you want to really make this the best, then you cook it in the slow cooker! This gives the chicken a change to really absorb the flavors making it taste so delicious when you are ready to eat it at dinner time! It tastes like its from a restaurant!
This crockpot orange chicken recipe is so easy and delicious, and it only takes about 15 minutes of prep time. Then you can pop it in your slow cooker and let it cook all day, and you will have an insanely delicious meal to eat at the end of the day! We love eating it with some delicious fried rice or some chow mein! It's a recipe that will become a staple, and you will definitely want it on your regular dinner rotation!
Ingredients:
3-4 boneless chicken breasts (cut into cubes)
3 Tablespoons cornstarch
2 Tablespoons vegetable oil
1 teaspoon rice wine vinegar
2 Tablespoons soy sauce
1/2 teaspoon sesame oil
3/4 cup orange marmalade
3 Tablespoon brown sugar
1/2 teaspoon salt
pinch of pepper