Thai Vegetarian Egg Rolls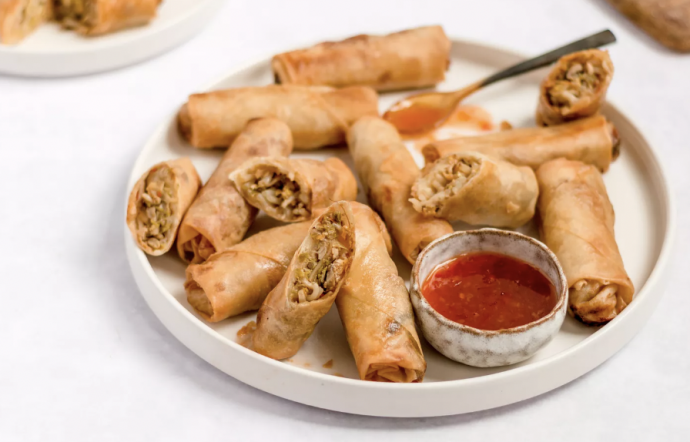 This egg roll recipe is crunchy, delicious and super easy to make. The egg roll filling is made up of lots of crisp vegetables plus a little egg, making this recipe a great choice for vegetarian Thai food fans (vegan instructions are also included here). Get your friends or family to help with rolling them up; it's fun to do and will speed up the process. But even if you're making them solo, you'll find these egg rolls quick and simple to put together. They're excellent as an appetizer or as part of a complete meal—just pair with a Thai salad or noodle dish.
A note to vegans: It's fairly easy to find egg/dairy-free egg roll wrappers at Asian food markets. Look for them in the refrigerated or freezer section.
Ingredients
For the Stir-Fry Sauce:
2 tablespoons vegetarian fish sauce, available at Vietnamese food stores, or substitute soy sauce
1 tablespoon soy sauce
1 tablespoon lime juice, freshly squeezed
1 teaspoon sugar
For the Eggrolls:
1 (16-ounce) package egg roll wrappers
1 tablespoon oil, for stir-frying
3 cloves garlic, minced
1 red or green chile, minced, optional
5 to 6 fresh shiitake mushrooms, finely sliced and chopped
1/4 cup white wine, sherry, or cooking wine
1 cup sliced or shredded Chinese or white cabbage, cut into in matchstick-length pieces
3 green onions, sliced lengthwise into matchsticks
1 to 2 large eggs, vegans can omit the egg, or substitute 1/4 cup soft tofu
3 cups fresh bean sprouts
1 cup oil, for deep-frying