Shrimp Brochette Skillet with Poblano Rice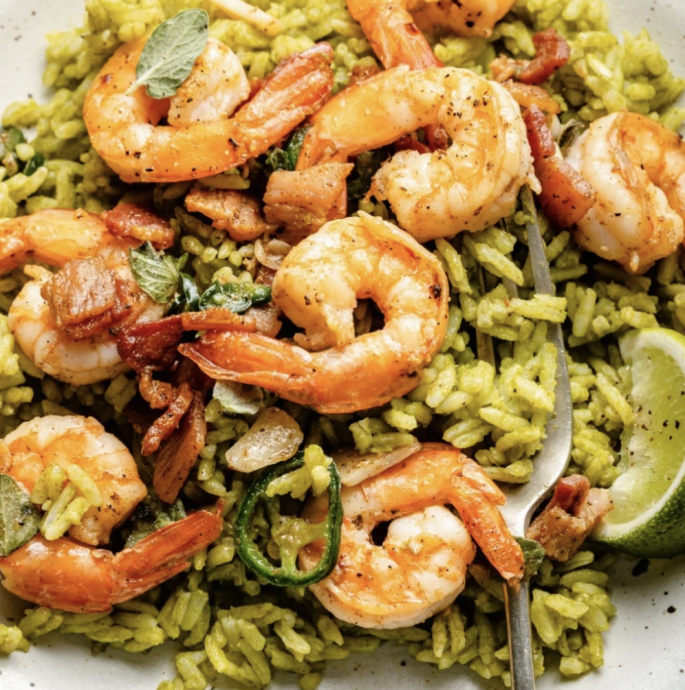 Incredible shrimp brochette skillet served with fluffy, flavorful poblano rice. This easy, fun take on traditional shrimp brochette cuts down prep time but makes a truly unique dinner that feels a little fancy! Enjoy for date night or the perfect weeknight meal.
Yes, it sounds fancy, and yes, it's absolutely delicious. Shrimp brochette is essentially a bacon-wrapped shrimp jalapeño popper. Seriously! Shrimp is stuffed with jalapeño, wrapped in bacon and grilled to crispy perfection. You can serve it with anything you'd like: often rice, crusty French bread, or a side salad.
Ingredients:
For the poblano rice:
2 tablespoons avocado oil
1 cup medium-diced white onion (about ½ medium onion)
1 cup medium-diced seeded poblano pepper (1 large poblano)
3 garlic cloves, minced
1 teaspoon kosher salt
½ teaspoon freshly ground black pepper
2 cups (16 ounces) low-sodium vegetable broth
1 cup loosely packed fresh cilantro leaves
2 cups white jasmine or other long-grain white rice
For the shrimp brochette:
5 slices bacon, cut into 1-inch pieces
1 ½ pounds shrimp (31/40 count), peeled and deveined, patted dry
2 garlic cloves, thinly sliced
½ large jalapeño, thinly sliced
½ teaspoon kosher salt
¼ teaspoon freshly ground black pepper
1 tablespoon unsalted butter or ghee (sub vegan butter for dairy-free)
1 tablespoon roughly chopped fresh oregano leaves
1 lime, cut into wedges