Meringue Banana Cream Pie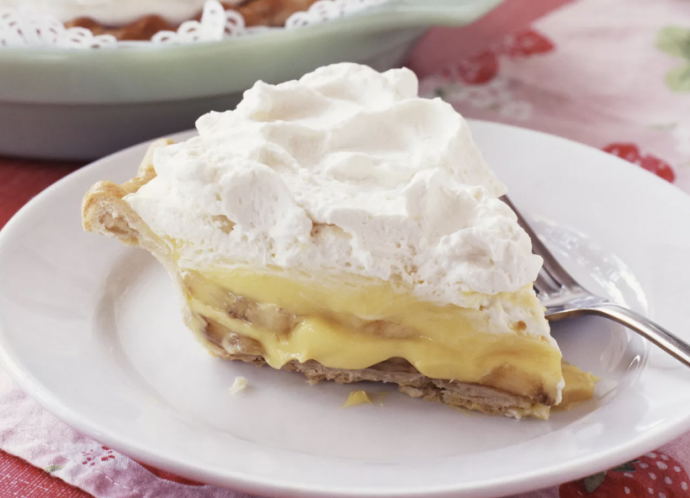 This take on the classic banana cream pie is an easier version than most recipes for this delicious dessert. Here, you'll use an already-made crust unless, of course, you want to make it and bake it yourself. But there's no shame in convenience, especially when there are so many delicious pie crusts available in stores. A delicious vanilla custard and slices of ripe bananas fill up the crust, with a thick layer of fluffy meringue sitting on top of the pie to add extra richness and creaminess. Make this pie in a little over an hour to sit down to a slice of goodness. A great dessert for any occasion, this pie makes a pretty addition to a dessert table. Ideal for baby showers thanks to its pretty neutral color, this luscious and creamy pie is also perfect for buffet-style dessert tables. Because of its sweet and mild flavor, it's is an amazing treat after heavy, meaty meals.
Although it's a popular recipe in the United States, there is no way of pinpointing the origin of this pie, but rumor has it that it comes from the Midwest where pies were a big deal. Back in the day, before bananas were common staples in all grocery stores and kitchen counters, making a pie with bananas meant cooking with exotic and extraordinary fruits. Thus, the banana cream pie was that coveted treat everyone aspired to make and eat. Once bananas were ordinary and easier to find by the end of the 19th century, the banana cream pie craze took over the entire country and since then there has been no looking back. If you want to celebrate banana cream pie day with the rest of the banana cream pie fans, make this tasty recipe on March 2nd of every year. If you live outside of the United States, the closest cousin of this pie is the English banoffee (a portmanteau of banana and toffee) a richer, heavier, and much sweeter banana pie.
If buying the crust at the store, choose between regular pie crust, graham cracker, or cookie crust. Do keep in mind that the bananas will brown and turn mushy if you allow too much time between the when you bake it and slice it. A couple of hours are enough for it to set, but too much time will ruin your dessert. Serve as is, or add some pretty shavings of dark chocolate on top and a few fresh banana slices.
Ingredients
1 (9-inch) pie crust, cooled
1/3 cup granulated sugar
1/2 cup all-purpose flour, sifted
1/4 teaspoon salt
3 cups milk
3 large egg yolks, slightly beaten
1 1/2 teaspoons pure vanilla extract
1 tablespoon unsalted butter
2 medium bananas, ripe; thinly sliced
For the Meringue:
3 large egg whites
1/4 teaspoon cream of tartar
1/3 cup granulated sugar