Apple Fries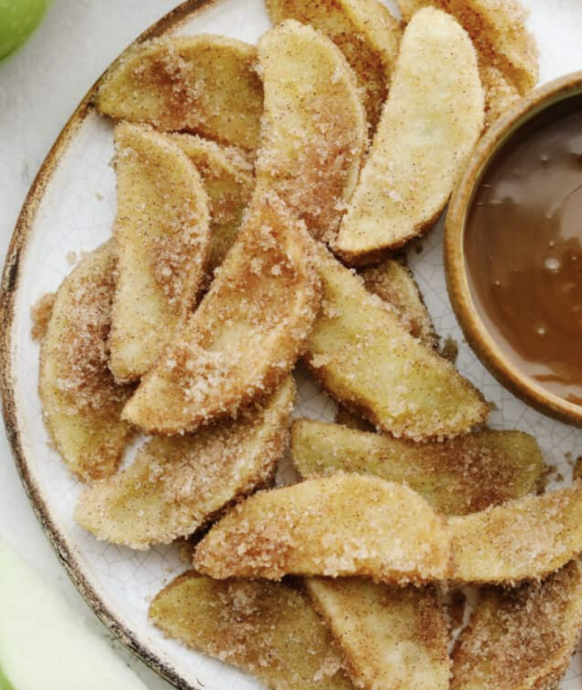 Lightly battered and tender, apple fries are going to become your new favorite treat! A generous coating of cinnamon sugar and homemade caramel dip makes them even more irresistible!
This is the ultimate treat for all of you apple lovers out there! It takes 5 ingredients. That's all! Chances are, you've got them in your kitchen right now, too! Apple fries are warm and tart with a slight coating of batter on them. This makes each bite soft, juicy, and tender with a bit of crispiness! The cinnamon-sugar topping gives them the perfect fall flavor. Then, all you need is your favorite sweet dip! In this recipe, I pair my apple fries with homemade caramel sauce, but feel free to get creative! Cheesecake dip is a classic. Marshmallow and chocolate peanut butter dips are amazing, too! Mix and match them all for your own personal fondue night!
Apple fries whip up in just a few minutes. This makes them the perfect after-school snack! My kids are just as obsessed with apples as I am, so these always get gobbled up. They also work great in school lunches; it's a bite-sized dessert great for taking on the go! It's time to get your favorite apples and make a batch. This is the tasty fall treat you won't want to pass up!
Ingredients:
oil for frying
3 Granny Smith Apples peeled
1/4 cup cornstarch
1 cup sugar
1 Tablespoon Cinnamon
caramel sauce for dipping optional