Easy Cuban Sandwich Recipe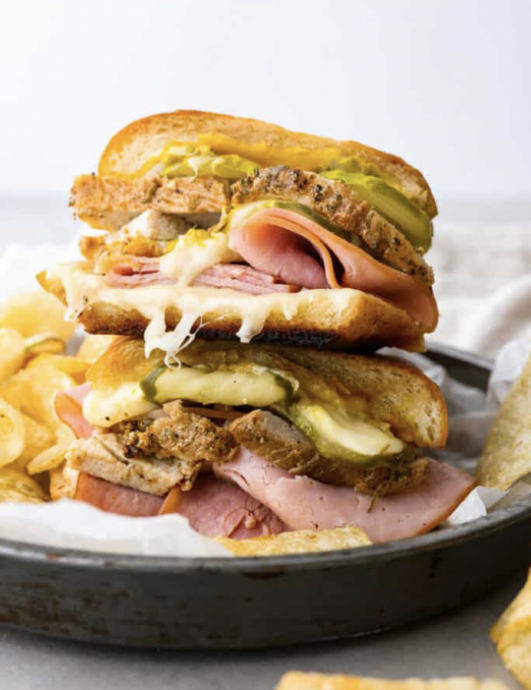 The delicious Easy Cuban Sandwich is layered with two kinds of pork, loads of melted swiss cheese, pickles, and mustard. Toasted in butter and pressed to perfection, this is one ultimate sandwich for pork lovers.
This hearty sandwich is all about the layers and each one plays a significant flavor role in taste. The main ingredient, however, is the two kinds of pork. Layers and layers of smoked ham are paired with thinly sliced pork tenderloin. The Cubano is the ultimate sandwich with the tangy and tart taste of the pickles and mustard paired with melted swiss cheese and pork.
Not only is this sandwich packed with flavor but it's actually really easy to make! All of the different ingredients complement each other so well and it will make you want this sandwich every week for lunch! It's also easy to change things up and make this your own. But trust me, once you try this recipe, it will be your new classic, go-to sandwich of choice!
Ingredients:
Pork Tenderloin
1 pound pork tenderloin
1/4 cup olive oil
1/4 cup orange juice
2 tablespoons lime juice
3 garlic cloves minced
1 teaspoon dried oregano
1/2 teaspoon cumin
Sandwich
2 loaves Cuban bread (Italian bread will also work)
1 pound Swiss cheese sliced
1 pound smoked ham sliced
1 cup dill pickles sliced
1/4 cup mustard
2 tablespoons butter