Beef Roast Braised in Red Wine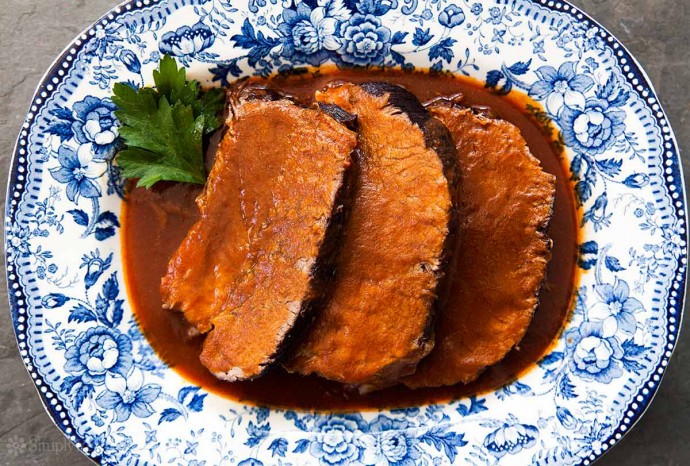 This is not your everyday pot roast recipe, yet so delicious! Beef roast braised in red wine, with pancetta, onions, carrots, celery, tomato, and garlic. Of all the possible ways to cook beef, my absolute favorite is braising. Without a doubt, I love to braise. It makes everything tender, delicious, and it's low maintenance. It's the best way to make an inexpensive and tough cut of meat into a delectable, elegant dinner. You could braise a boot and make it delicious. I know this is an extreme example, but it's pretty close to true. Braising is like magic.
The beef finishes fork tender and deliciously saucy. There are endless ways to serve braised beef. I happen to know it pairs fabulously with buttered noodles and these salt potatoes from Foodie with Family. It can also be used as a pasta filling for ravioli. You can serve this braised beef dish with tortelloni, mashed potatoes, polenta, pasta, or gnocchi. In fact, I found some pumpkin gnocchi while grocery shopping, and I knew that they would be perfect with red wine braised beef. To serve, I tossed the gnocchi in brown butter and topped it with savory braised beef.
Ingredients:
1 (3 1/2 pound) chuck roast, boneless
Salt and ground black pepper
4 oz pancetta, cut into 1/4-inch cubes
2 medium onions, chopped medium (about 2 cups)
2 medium carrots, chopped medium (about 1 cup)
2 ribs celery, chopped medium (1 cup)
1 Tbsp tomato paste
3 medium cloves garlic, minced or pressed through garlic press (about 1 tablespoon)
1 (750 ml) bottle Zinfandel wine (can substitute Cabernet Sauvignon, or other full bodied red wine)
1 can (14 1/2 ounces) diced tomatoes, drained
1 Tbsp chopped fresh oregano
1 teaspoon minced fresh rosemary