Sweet Potato Casserole Recipe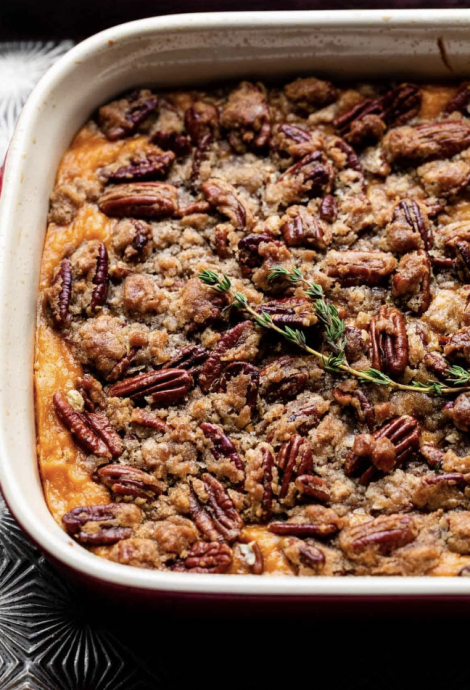 Full of flavor and perfect for making ahead, this homemade sweet potato casserole will steal the show at your next holiday meal. Crunchy sweet brown sugar pecan crumble covers every bite of this buttery sweet potato mash. After your first forkful, you'll already be thinking about going for seconds!
Side dishes are, without a doubt, the best part of a classic Thanksgiving meal. We're talking creamy from-scratch green bean casserole, flaky soft dinner rolls, and flavorful cornbread stuffing.
Today's recipe for homemade sweet potato casserole is a family favorite. Enjoy a smooth and creamy sweet potato mash topped with a crunchy, toasty, praline-esque pecan topping. Because it's a little sweet, I like to serve this casserole with a sprinkle of sea salt and some savory fresh thyme or rosemary. A lovely balance of texture and flavor!
Ingredients:
2 pounds (908g) sweet potatoes, peeled (about 5 small/medium)
1/3 cup (72g) unsalted butter, melted
1/2 cup (100g) packed light or dark brown sugar (I prefer dark)
2 large eggs, beaten
1/2 cup (120ml) half-and-half or heavy cream
1 teaspoon pure vanilla extract
1/4 teaspoon salt
Topping
1/3 cup (41g) all-purpose flour (spoon & leveled)
1/2 cup (100g) packed light or dark brown sugar (I prefer dark)
1/2 teaspoon ground cinnamon
1/3 cup (72g) unsalted butter, melted
1 and 2/3 cups (210g) pecan halves or chopped pecans
optional: fresh rosemary or thyme, and sea salt for garnish