Sausage Pasta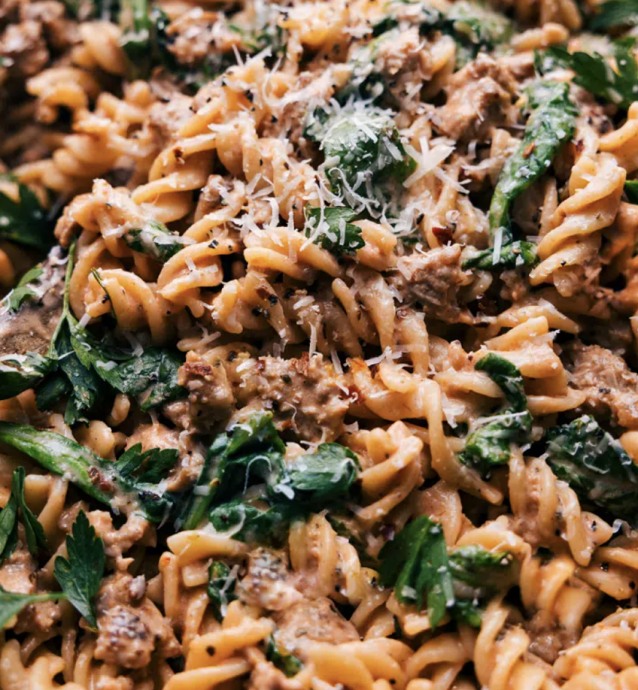 Besides Sausage Pasta is the ultimate comfort food! Italian sausage in a creamy tomato sauce with fresh baby spinach and tender pasta. Topped with some freshly grated Parmesan cheese–this dish is unbelievably good!
Besides the sausage, This recipe includes a creamy tomato-based sauce, pasta, and spinach.
Here's a quick breakdown of a few ingredients worth mentioning in more detail:
• Baby spinach: We recommend using baby spinach and giving it a quick coarse chop before adding. While the spinach doesn't have to be chopped it does integrate better in the dish that way.
• Parmesan cheese: For the perfect melt and to ensure the measurement is accurate (so the dish isn't too salty), take a block of Parmesan cheese and grate it on the small holes of your cheese grater. Measure and add!
• Half-and-half: This is a dairy product containing half cream and half milk–makes sense, right? It's usually sold near the heavy cream and milk in the store.) If you can't find half-and-half at your store, use equal parts heavy cream and milk. This keeps the pasta a little lighter while still ensuring it's plenty tasty.
Ingredients:
1 pkg. (16 oz.) rotini pasta
1 tablespoon olive oil
1 pkg. (16-19 oz.) Italian sausage (Note 1)
Fine sea salt & pepper
2-1/2 teaspoons minced garlic (2-3 cloves)
2 teaspoons dried Italian seasoning
1/4 teaspoon red pepper flakes, optional
1/3 cup chicken broth
1-1/4 cups tomato puree (or tomato paste -- see Note 2)
1-1/2 cups half-and-half (Note 3)
1/3 cup freshly & finely grated Parmesan cheese (Note 4), plus more for serving
4 cups packed baby spinach, coarsely chopped
Optional: splash of red wine vinegar