Homemade Soft Pretzels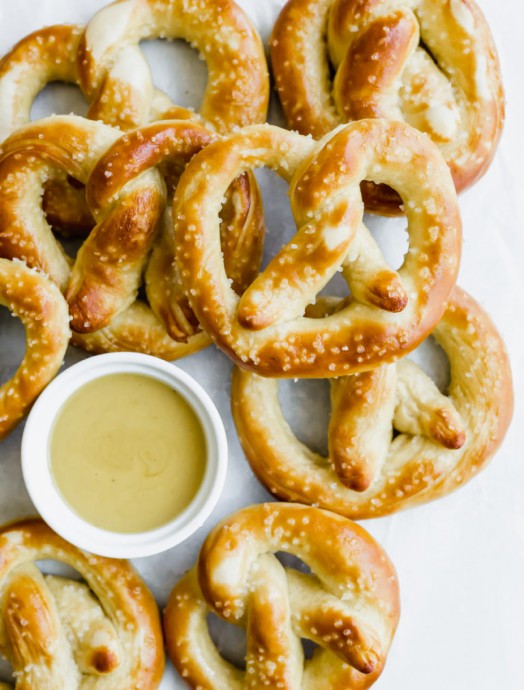 These Homemade Soft Pretzels are ultra soft, buttery, and easy to make! Serve the pretzels with my honey mustard sauce and watch them disappear almost instantly!
For some reason, homemade pretzels get a bad rap for being this difficult, hard to master recipe. I'm here to change that. They aren't difficult! Trust me. You no longer need to wait in long lines at the mall for those over priced lukewarm pretzels. I have photos and instructions to guide you in making perfect pretzels every single time!
Baking at a high temperature gives the pretzels that perfectly golden appearance. Coarse salt gives it the signature pretzel flavor (yum)!! Melted butter is essential for the luxurious and addicting flavor!
Homemade pretzels are best when eaten fresh out of the oven! This isn't a hard task, friends. Our biggest struggle was not devouring all 8 pretzels within 15 minutes of them being done! These soft pretzels are brushed with melted butter immediately after being removed from the oven. Once you smell the aroma of fresh baked bread you'll be anxious to sink your teeth into these soft buttery pretzels. And to make these pretzels even better try them with a homemade honey Dijon mustard sauce! So delicious!!!
Ingredients:
1 cup warm water
1 teaspoon sugar
2 1/4 teaspoon instant yeast
2 1/2 cups all purpose flour
1 teaspoon salt
1 tablespoon unsalted butter - softened
Baking Soda Bath
1 1/2 cups water
3 tablespoons baking soda
Honey Dijon Mustard Sauce
1/8 cup honey
1/8 cup mayo
1/8 cup Dijon mustard
1/2 teaspoon yellow mustard
1/4 teaspoon white vinegar
3 tablespoons butter - melted
coarse salt