Cream Cheese Danishes with Sugared Cranberries and Butter Glaze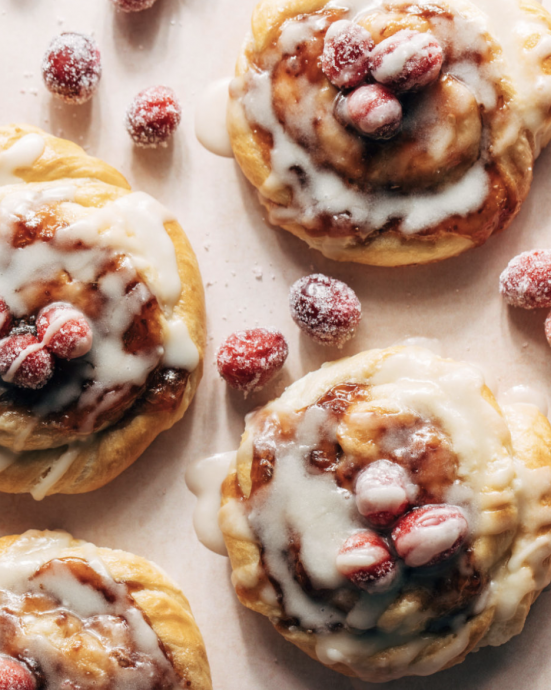 Everything about these cream cheese danishes will bring holiday joy to your kitchen! Twirls of crescent dough layered with cream cheese and baked with a pool of strawberry jam and a buttery glaze on top to finish. Add in those sugared cranberries to bring it right over the top!
I tried these with a little puddle of cream cheese filling on the top, but since this dough (refrigerated croissant dough) really wants to pop up when it bakes, I felt like it was hard to get that dense cream cheese center I was going for.
Personally, I love the cream-cheese-in-the-layers approach because the cream cheese gets evenly distributed throughout the dough so you are guaranteed cream cheese – and just the right amount – in every bite.
Ingredients:
Cream Cheese Danishes
1 roll Bake House Creations Crescent Rolls
2 ounces Happy Farms Cream Cheese
1 tablespoon granulated sugar
1 egg + 1 tablespoon milk (for egg wash)
1/2 cup Specially Selected Premium Strawberry Fruit Spread (I like a classic strawberry but this is also delicious with something more seasonal)
Vanilla Butter Glaze
1/2 cup powdered sugar
1 tablespoon warm melted Countryside Creamery Butter
1 tablespoon warm water
1/8 teaspoon vanilla extract
Sugared Cranberries
3 cups fresh cranberries
1/2 cup water
1 1/4 cups granulated sugar