Honey Pie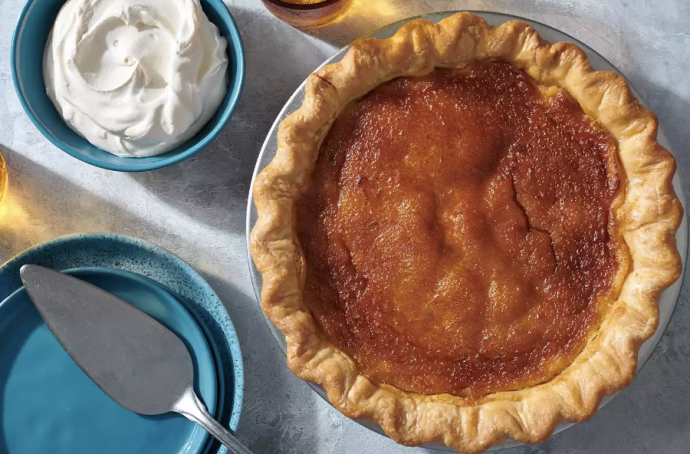 Although this pie one of Four and Twenty Blackbirds' signature original creations, it has ties to more traditional southern custard-based pies like buttermilk and chess pie. Both pies contain dairy, eggs, butter, sugar, and a thickener with the main differences being the type of dairy and thickener used. Chess pies frequently use milk, cream, and cornmeal while buttermilk pies use (surprise!) buttermilk and flour or cornstarch.
Bee Selective When Choosing Honey
For my version of honey pie, I browned the butter for a rich, nutty depth of flavor. Since honey is the star of the show here, the type of honey used is important. I always try to use local honey since it supports your local farmers and is less processed. Any high quality raw honey will work as well.
Different honeys have different flavors so keep that in mind when selecting the type of honey for this pie. You can go mild with a wildflower honey or choose something with a bold flavor profile, like buckwheat honey, for a more intense honey kick.
Ingredients:
For the Crust:
1 3/4 cups (210 grams) all-purpose flour, more as needed
4 ounces (1/2 cup) cold unsalted butter, cubed
1/2 teaspoon fine salt
1/2 teaspoon granulated sugar
5 tablespoons ice water
For the Filling
5 1/2 ounces (11 tablespoons) unsalted butter
3 large eggs
1/2 cup (100 grams) granulated sugar
1 tablespoon cornstarch
1/2 teaspoon fine salt
1 tablespoon pure vanilla extract
3/4 cup raw honey, preferably local
1/2 cup lowfat buttermilk
1 teaspoon lemon zest
1 1/2 tablespoons lemon juice
For the Honey Whipped Cream
1 1/2 cups cold heavy cream
2 tablespoons raw honey, preferably local
1 tablespoon lightly packed dark brown sugar
1/4 teaspoon fine salt