Chocolate fondant with lindt lindor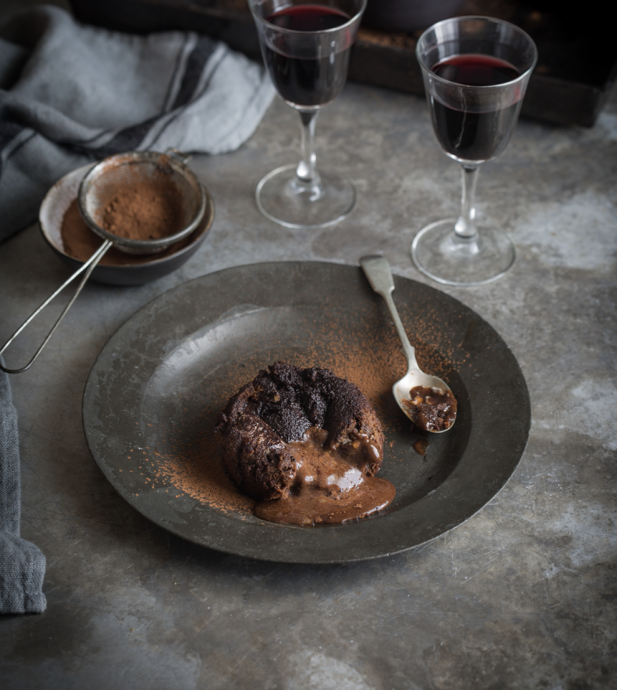 A recipe by Donna Hay for a chocolate fondant with peanut butter has haunted me for years so I thought that was a good place to start. I decided against the peanut butter though and opted to play around with Lindt Lindor, both the white and the milk chocolate versions. I think the dark chocolate would also be magnificent and add a touch more bitterness. You can use either the Lindor ball or 3 squares of the Lindor slabs. If you could dish out awards to people in the food world that invent a product so delicious it makes the world a better place, one of these should surely go to the creator of the Lindor filling. You can make these fondants without the additional chocolate and it would still be wonderful, but I wanted to add meltiness and create delectable fudge-like texture. I added a dash of coffee to the mix to amplify the bitterness slightly but this is entirely optional.
This makes 4 generous Fondants, so you could quite easily make 6 – 8 much smaller ones. Just reduce the cooking time down to 12 minutes and halve the quantity of Lindor chocolate you add to the middle.
Ingredients:
200gms dark chocolate, chopped
100 gms salted butter
1 tsp good quality instant coffee granules or ½ tsp espresso powder
2 free-range eggs
2 free-range egg yolks
½ cup (110gms) caster sugar
¼ cup flour
4 white or milk chocolate Lindt Lindor balls or 12 x squares from a slab (3 per fondant)
Cocoa for dusting