Crispy Air Fryer Chicken Strips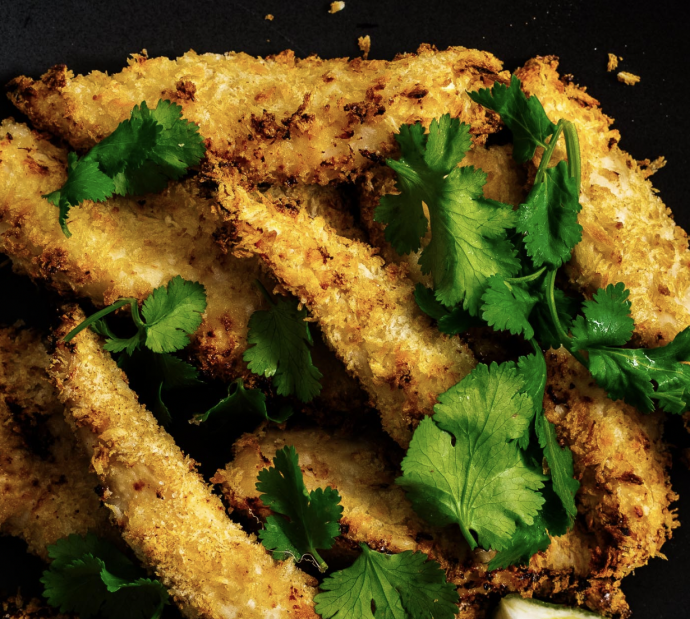 Chicken strips and chicken strips and chicken strips and chicken strips. They are and forever will be one of my favorite things to eat, no matter how many people look down on them. They're always on the kids menu and sometimes, I just ask if I can order them because when you have a chicken strip craving, it needs to be filled.
I don't even really understand why people look down on chicken strips. They're essentially mini chicken schnitzels and people love schnitzel! Anyway, the next time your chicken strip craving hits and you don't want to do the fast food or deep fry thing, try these air fryer strips!
They're not deep fried so already they're on the side of health! Plus, if you use chicken breasts which are lean and full of protein, you've got even more reason to eat them. These strips get a blast of flavor from a quick soak in buttermilk, as well as onion and garlic powder. We served them up with some lime and cilantro for a bit of brightness. I could eat these every day, for real.
PS – If you want your strips to look a little more golden, try toasting the panko in a dry pan for a little while. It'll give the breadcrumbs that signature golden look.
Ingredients:
2 boneless skinless chicken breasts, cut into strips
1 teaspoon coarse kosher salt
1 teaspoon freshly ground pepper
1 cup buttermilk
1 1/2 cups panko
1/2 tablespoon garlic powder
1/2 tablespoon onion powder
1 teaspoon salt
1/2 teaspoon pepper, preferably white pepper
canola oil spray
lime and cilantro to serve