Oven Baked Salmon Cakes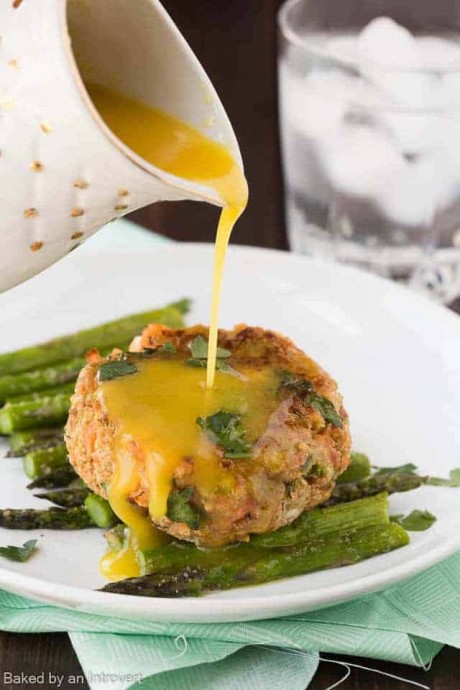 Oven Baked Salmon Cakes are perfect for your summer party! Made with fresh salmon, bell peppers, onions, and parsley, you won't feel guilty about eating more that one of these baked patties. This is a recipe you will turn to time and time again. It's so good!!
Over cooking salmon can dry it out which is not pleasant to eat. You want the salmon to be moist and tender. The best way to achieve this is to poach it in lemon water before shredding it. I used skinless salmon but you can use filets with the skin on them. The skin will easily peel away after poaching.
Don't attempt to shred the salmon until after it has cooled. Just like with any meat, you want to let it rest so all the moisture remains inside. The cakes are going to be baked which can dry them out, so it's super important to ensure the salmon is ultra moist before going into the oven.
The best part about this recipe is the tangy honey mustard vinaigrette sauce. It pairs perfectly with the salmon. I drowned my salmon in it!! Harry, my husband, enjoys eating his with sriracha. So, if you like hot sauce, that's a great idea as well.
Serve the oven baked salmon cakes with asparagus, spinach, or any other green vegetable. Enjoy!
Ingredients:
For The Salmon Cakes
1 pound fresh salmon, skin removed
½ cup lemon juice
1 ⅓ cups plain breadcrumbs
⅓ cup all-purpose flour
½ green bell pepper, finely chopped
½ small onion, finely chopped
¼ cup fresh parsley, chopped
¼ teaspoon salt
⅛ teaspoon cayenne pepper
2 large eggs, lightly beaten
cooking spray
For The Vinaigrette
1 tablespoon white wine vinegar
1 tablespoon honey
1 tablespoon Dijon mustard
¼ cup extra virgin light olive oil