Chicken Broccoli Rice Casserole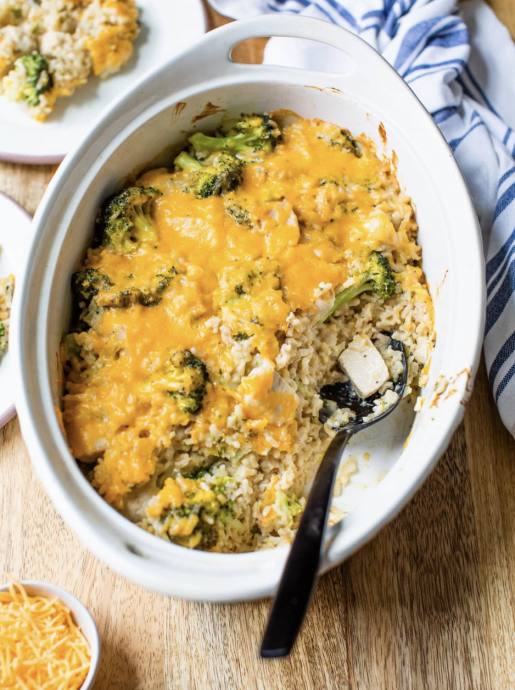 Chicken Broccoli Rice Casserole is the healthy, cheesy, and easy recipe that will please everyone at your table. The flavors are simple and appealing, the prep is easy, and unlike many other casserole recipes, this casserole contains NO SOUP!
Not only could she make a casserole from scratch, but she could transform any (and I mean any) leftover in our home into a creamy, cheesy casserole of sorts.
A mix of brown rice, quickly sautéed chicken, and fresh broccoli, this casserole offers every food group in a single meal. There is no soup to be found (cream of, canned, or otherwise).
This casserole recipe is easy to scale up to feed a crowd and to make and freeze ahead (it's a favorite meal to give to new mothers among our fries).
It saves and reheats like a dream, making it an ideal option for healthy lunches and dinners throughout the week.
Ingredients:
1 3/4 cups low-sodium chicken stock
2 cups instant brown rice if you use white rice or non-instant rice, the cooking time and amount of liquid needed may differ
1 pound broccoli florets chopped into bite-sized pieces
1 teaspoon extra-virgin olive oil
1 pound boneless skinless chicken breasts chopped into bite-size pieces
3/4 teaspoon kosher salt divided
3/4 teaspoon garlic powder divided
1/2 teaspoon black pepper divided
2 tablespoons all-purpose flour
2 cups milk divided (I used skim)
3 tablespoons Dijon mustard
1/3 cup nonfat plain Greek yogurt
1 1/2 cups reduced-fat shredded cheddar cheese divided (about 6 ounces)