Funfetti-Inspired Biscotti Recipe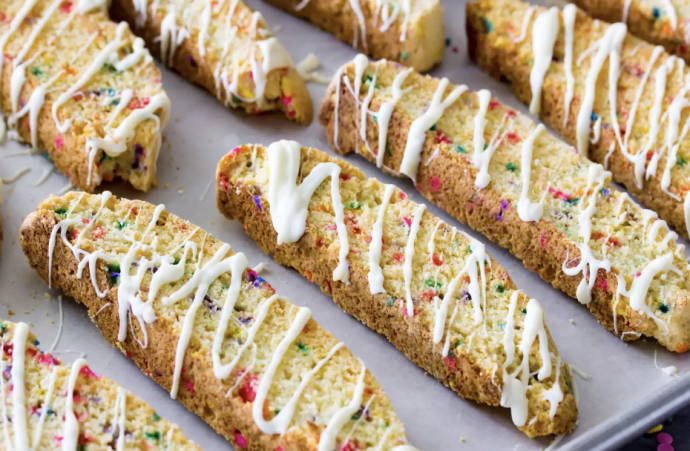 The classic Italian treat gets a makeover with this recipe for rainbow biscotti! This is a foolproof biscotti recipe with a fun twist: A crisp and colorful cookie treat (a variation of this classic double anise biscotti recipe), that's been enriched with a vibrant vanilla flavor, peppered with brightly colored sprinkles, and topped off with a drizzle of white chocolate.
Biscotti might seem intimidating if you've never made it before, but this simple, novice-friendly recipe comes together in a matter of minutes and includes easy instructions (be sure to check out our visual guide to making biscotti for step-by-step photographed instructions!). It's flavored with vanilla and almond extract and is made with butter (rather than oil) for a full, buttery flavor reminiscent of vanilla cake batter.
Biscotti are always baked twice; once as a loaf, then again after being cooled and sliced. This dries out the slices and gives each that signature crispness. This biscotti tastes great when served on its own, but is also great dunked in your morning coffee.
Once you've made this rainbow-colored version from scratch for yourself, you'll never have to resort to regular, store-bought biscotti again!
Ingredients
10 tablespoons butter, softened to room temperature
1 1/2 cups sugar
3 large eggs
2 teaspoons vanilla extract
1/4 teaspoon almond extract
3 1/4 cups all-purpose flour
1 tablespoon baking powder
3/4 teaspoon salt
1/4 cup colored sprinkles
1/2 cup white chocolate candy melts, optional