Chicken Cacciatore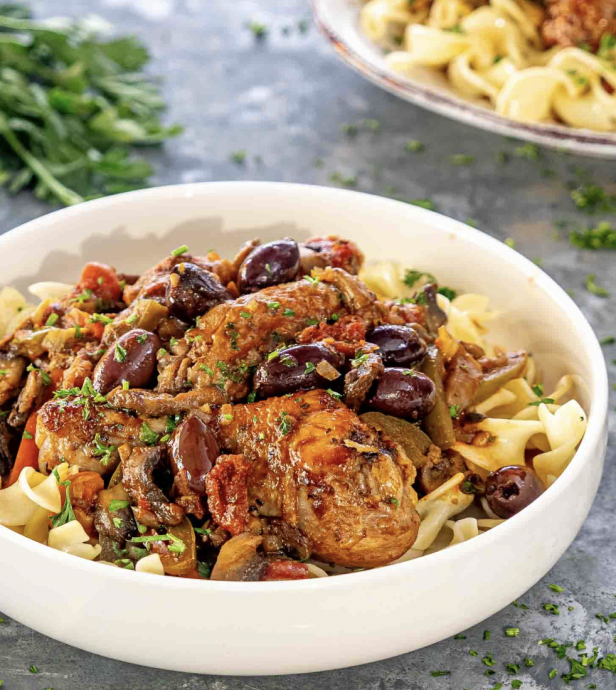 This easy Chicken Cacciatore recipe is a rustic, hearty chicken dish, and a classic Italian comfort food made in one pot. It's bursting with bright colors and fresh flavor.
I have a comforting recipe for you today that's perfect for this time of year. It's filling, full of awesome flavor, and loaded with veggies. This is one of those recipes that you can use up pretty much any of the leftover veggies that are hanging around in your fridge. Did I mention it's also all done in one pot? Score!
Chicken Cacciatore is a classic Italian dish. Cacciatore actually translates to hunter in Italian. Alla cacciatora refers to a meal prepared "hunter-style" with tomatoes, onions, lots of herbs, bell peppers and wine. So there you have it, Chicken Cacciatore, hunter-style chicken.
Ingredients
2 tablespoons olive oil
2 tablespoons butter
2 pounds chicken wings and drumsticks
½ teaspoon salt (or to taste)
¼ teaspoon pepper (or to taste)
4 cloves garlic (minced)
1 medium onion (chopped)
1 pound white mushrooms (cleaned and chopped)
1 medium green bell pepper (chopped)
1 medium red bell pepper (chopped)
1 medium yellow bell pepper (chopped)
¼ teaspoon turmeric
2 teaspoons oregano (dried)
2 bay leaves
1 cup red wine
2 tablespoons tomato paste
14.5 ounces diced tomatoes (1 can)
¾ cup Kalamata olives (pitted)
1 tablespoon fresh parsley (chopped)