Love Real Food Creamy Spinach Artichoke Dip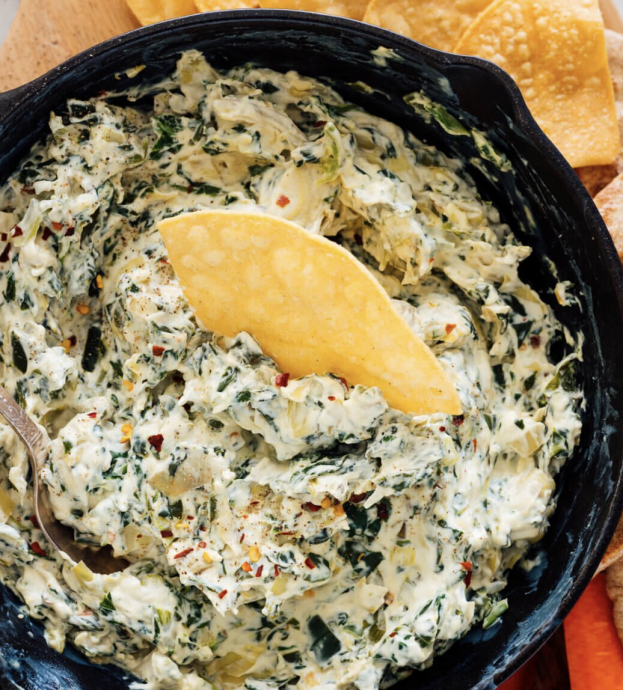 This dip recipe comes together in under 20 minutes with basic ingredients: spinach, artichoke, cream cheese, sour cream, plus green onions and poblano pepper or bell pepper.
We'll cook the green onions until they're a little golden and frazzled around the edges, which is an easy way to yield tons of flavor. I'm obsessed with using lightly spicy, tender poblanos in this recipe (a great twist on standard spinach artichoke dip) but you can use a red bell pepper for a mild dip (also delicious!).
Ingredients:
8 ounces (about 1 cup) frozen spinach
1 tablespoon extra virgin olive oil
1 cup chopped green onions (3 to 4 green onions), both green and white parts
1 chopped poblano pepper (for some spice) or red bell pepper (for mild flavor)
½ teaspoon red pepper flakes (scale down or omit for mild flavor)
¼ teaspoon fine salt, to taste
8 ounces cream cheese, sliced into 4 even pieces
½ cup (4 ounces) sour cream
½ cup (4 ounces) chopped artichoke, canned or marinated
Freshly ground black pepper, to taste
Serving suggestions: Tortilla chips, toasted pita wedges or pita chips, crostini, strips of bell pepper, carrot or celery sticks…