Favorite Green Salad with Apples, Cranberries and Pepitas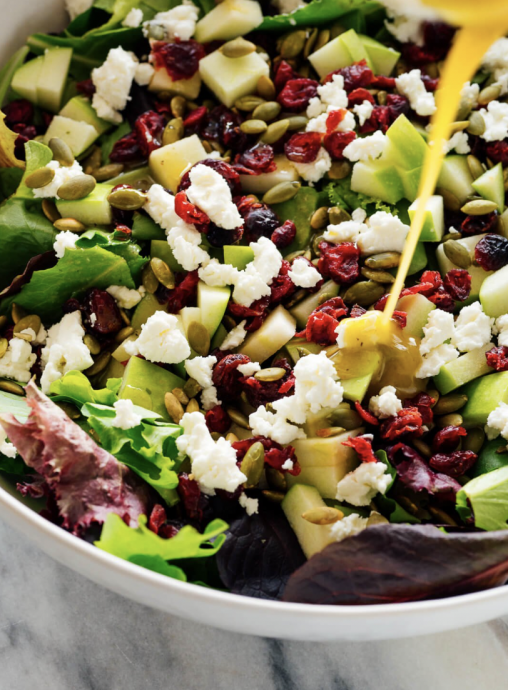 Healthy, attainable, feel-good recipes—those are my favorite. Take this simple green salad, which has been my go-to holiday salad for five years now.
I've brought it to too many Friendsgivings to count, and my family has enjoyed it at Thanksgiving as well. It's beautiful, easy to make, and a guaranteed crowd pleaser.
This salad features fresh spring greens, tart Granny Smith apple, sweet dried cranberries and creamy goat cheese, tossed in a simple apple cider vinaigrette (recipe included).
Ingredients:
Green salad
5 ounces (about 5 cups) spring greens salad blend
1 large or 2 small Granny Smith apple(s)
⅓ cup dried cranberries
¼ cup pepitas (green pumpkin seeds) or chopped raw pecans
2 ounces chilled goat cheese, crumbled (about ⅓ cup)
Apple cider vinaigrette
¼ cup extra-virgin olive oil
1 ½ tablespoons apple cider vinegar
1 ½ teaspoons honey
1 teaspoon Dijon mustard
¼ teaspoon fine sea salt
Freshly ground black pepper, to taste