Crispy Fried Chicken Drumsticks Recipe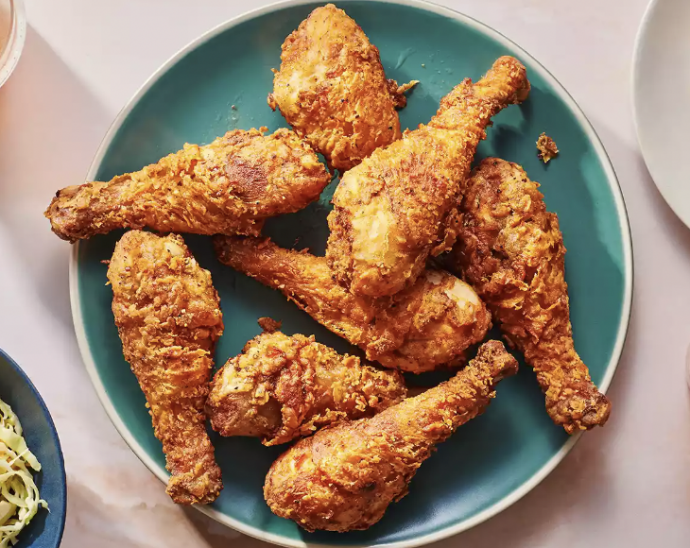 Drumsticks have fatty flavors and delicious firm dark meat that is great for frying. This basic fried chicken recipe soaks drumsticks in buttermilk, then dredges them in seasoned flour. They're pan-fried to perfection in batches, resulting in chicken that's moist inside and wonderfully crispy on the outside.
There are many secrets to cooking great fried chicken at home. It may take some time for you to really get the hang of it, but your efforts will be worth it when you master this classic dish. For the best results, follow all the tips in the recipe, including the buttermilk marinade, proper oil temperature, and warm oven while you work in batches.
Kids love drumsticks, and this is a perfect choice for family dinners. They're inexpensive and can be cut from budget-friendly whole frying chickens (save the breast and thigh meat for casseroles and similar dishes). The recipe works for whole chicken legs, and you can add some wings if you have any; adjust the cooking time for smaller pieces of chicken.
Serve the chicken as a main dish along with coleslaw, potato salad, and baked beans. For special occasions, the drumsticks make great appetizers when enjoyed with dipping sauces like honey-mustard or blue cheese.
Ingredients:
16 chicken drumsticks, or a combination of drumsticks and thighs
1 1/2 cups buttermilk
1 1/2 tablespoons Tabasco sauce
2 teaspoons kosher salt
2 tablespoons freshly ground black pepper, divided
3 cups vegetable oil, for frying, more as needed
2 cups all-purpose flour
1 teaspoon cayenne pepper