Slow Cooker Vegetable Curry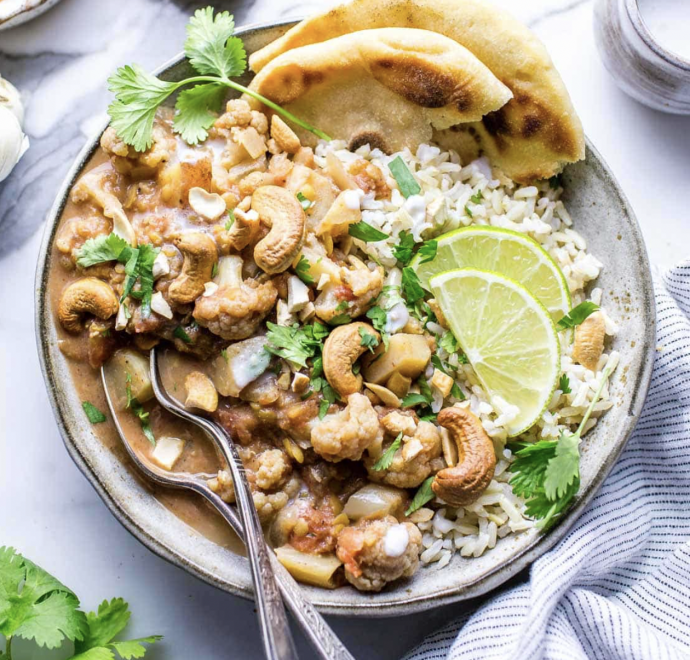 This Slow Cooker Vegetable Curry is chock full of veggies and red lentils and stewed in a flavorful tomato base. It's finished with coconut milk, just in time to put a pot of rice on to cook. It's simple to pull together and full of curry flavors we love! Serve slow cooker veg curry with a side of Naan and dinner is done. This recipe is vegetarian, vegan, and easily gluten-free.
Ingredients:
Coconut Oil – use unrefined for best coconut flavor.
Yellow or Red Onion – for a boost of flavor.
Fresh Garlic and Ginger – you'll grate these on a microplane. There's no need to peel the ginger.
Garam Masala – a warm and fragrant Indian spice blend, with cardamom, cinnamon, and clove.
Chili Powder – a robust spice blend with chili peppers, cumin, garlic, and oregano. This spice can vary widely. I use Frontier Co-op brand.
Ground Cumin – an aromatic spice that pairs perfectly with and balances the spicy notes of this vegetable curry recipe.
Red Chili Flakes – the main contributing spice component, adjust to taste!
Canned Diced Tomatoes – add richness, moisture, and flavor.
Red Lentils – the main protein component, look for red lentils in the bulk bins for best value.
Cauliflower – adds fiber, texture, and bulk.
Red Potatoes – add texture, bulk, and heartiness to this satisfying curry.
Coconut Milk – use full fat for richness and flavor.