Curried Chickpea Salad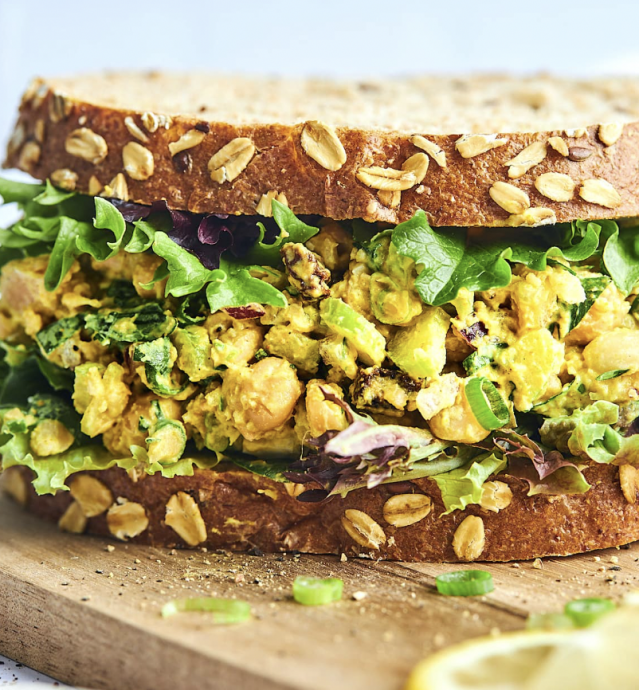 This Curried Chickpea Salad is full of flavor and only takes 15 minutes to make. It is a great meal prep recipe! Enjoy in a sandwich, wrap, add it to a bed of greens, or enjoy with naan or pita bread.
I also really love this Curried Chickpea Salad because the flavors are unique and SO delicious. Smashed chickpeas are combined with celery, onion, cilantro crunchy cashews, raisins, and a creamy curry dressing.
Some of the flavors might sound like an odd mix, BUT trust me, they all play nicely together. I LOVE the flavors and textures.
This is a great meal prep recipe because the salad holds up in the fridge for up to five days. I love pulling it out on busy days when I am craving something healthy and delicious.
Ingredients:
30 oz chickpeas (2 cans), drained and rinsed
1 cup diced celery
2 green onions, sliced
1/4 cup diced red onion
3 tablespoons chopped cilantro, can use parsley
1/3 cup chopped cashews, optional
3 tablespoons raisins, optional (can also do diced apple for sweetness)
2/3 cup plain Greek yogurt
2 tablespoons lemon juice
1 teaspoon pure maple syrup
2 teaspoons yellow curry powder
1/4 teaspoon turmeric powder
1/4 teaspoon garlic powder
Kosher salt and black pepper, to taste