Fruity Pebbles Cookies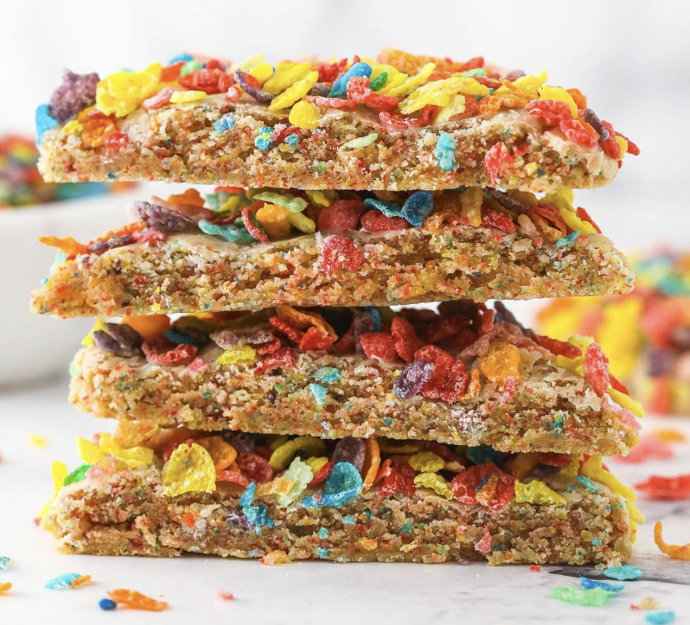 Breakfast for dessert anyone? Yes, please. These Fruity Pebbles cookies bring the flavor and crunch of a much-loved breakfast cereal into a cookie. Soft, chewy Fruity Pebbles infused cookies are dipped in a light glaze and coated in more Fruity Pebbles to make a colorful dessert that will have you coming back for seconds and thirds.
I incorporated Fruity Pebbles crumbs into one of my basic cookie dough recipes. The result was a delightfully soft and chewy cookie packed with Fruity Pebbles flavor. Honesty, the cookies alone were delicious enough. I took it two steps further, however, and dipped them in a light glaze before coating them in dry Fruity Pebbles. The breakfast cereal adhered beautifully to the cookies, giving them a delicious, flavorful crunch.
Ingredients:
Fruity Pebbles Cookies
2 1/3 cups fruity pebbles
2 cups plus 2 tbsp (276) all-purpose flour
1 tsp baking soda
1/4 tsp salt
3/4 cup (168g) unsalted butter, room temperature
1 cup (207g) sugar
1 large egg
1 large egg yolk
1 tbsp vanilla extract
Glaze
1 cup (115g) powdered sugar
2–3 tbsp milk (not heavy cream)
2 cups fruity pebbles