Chocolate Kisses (Baci di Cioccolato)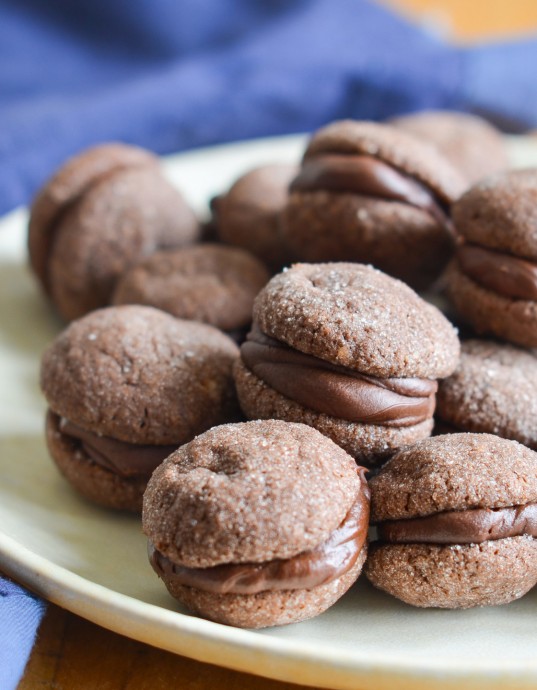 Named for their shape which is said to resemble the lips of a lady intent on kissing, baci di dama or 'ladies' kisses' have become a fixture in Piedmontese pasticcerie since their invention in the town of Tortona over a century and a half ago. These adorably sophisticated cookies are a variation of Italy's famous baci di dama (lady's kisses), which consist of two bite-size hazelnut cookies surrounding a rich chocolate filling. In DePalma's words, "Baci means 'kisses' in Italian, and here two chocolate cookies are sandwiched with a kiss of chocolate ganache. It is highly likely that the lucky people who devour them will kiss you for making them." Having made these intensely-chocolate cookies for the chocoholics in my family, I can confirm this is true.
The premise for making these elegant, bite-sized morsels would appear to be simple. The three main tricks to getting these biscuits right: cold butter; several hours ofresting time in the refrigerator (or freezer, if pressed for time); and a relatively low temperature oven. By taking these precautions, your biscuits will refrain from sinking too much and have that delicate, melt in your mouth consistency.
Ingredients:
FOR THE COOKIES
1/2 cup slivered almonds
3 tablespoons granulated sugar, plus more for rolling
1-1/2 cups all-purpose flour, spooned into measuring cup and leveled-off
1/3 cup unsweetened Dutch-processed cocoa powder
1/4 teaspoon baking powder
Scant 1/2 teaspoon salt
1 cup (2 sticks) unsalted butter, softened
1 cup confectioners' sugar
2 teaspoons vanilla extract
1 tablespoon dark rum (optional)
FOR THE GANACHE FILLING
3/4 cup heavy cream
8 ounces semisweet chocolate
1 tablespoon unsalted butter, softened
2 teaspoons dark rum (optional)