Instant Pot Jambalaya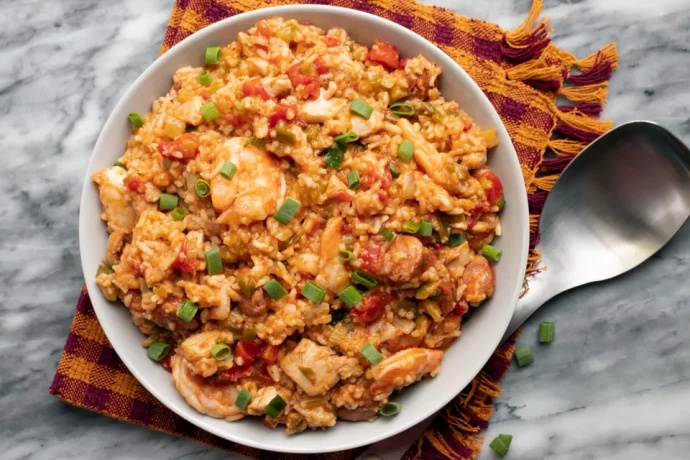 Jambalaya is one of those all-in-one dishes where almost anything goes. Like many Cajun and Creole dishes, jambalaya starts with the "holy trinity" of onions, celery, and green bell pepper. The addition of tomatoes makes it more of a Creole-style jambalaya.
This Instant Pot version includes chicken, shrimp, and spicy andouille sausage. Feel free to omit the shrimp if you like, or replace it with crawfish, scallops, or extra chicken and sausage. Or add some extra vegetables—sliced okra, thinly sliced carrots, and chopped chili peppers are just a few of the many possibilities. Your family will love it! Perfect for lunch, for a family dinner or even for any festive table! Simple to make and so delicious!
Ingredients:
4 green onions
1 1/2 tablespoons vegetable oil (divided)
12 ounces andouille sausage (sliced)
1 pound skinless and boneless chicken thighs (diced)
1 yellow onion (peeled and chopped)
1 green bell pepper (seeded and chopped)
4 ribs celery (chopped)
4 cloves garlic (minced)
1 tablespoon Creole seasoning (or Cajun)
1/2 teaspoon dried thyme (or 1 heaping teaspoon fresh thyme leaves)
1 bay leaf
2 cups unsalted or low sodium chicken stock
Kosher salt (to taste)
1 (14.5-ounce) can diced tomatoes
1 cup long grain white rice
12 ounces shrimp (peeled and deveined)