Black Bean Burger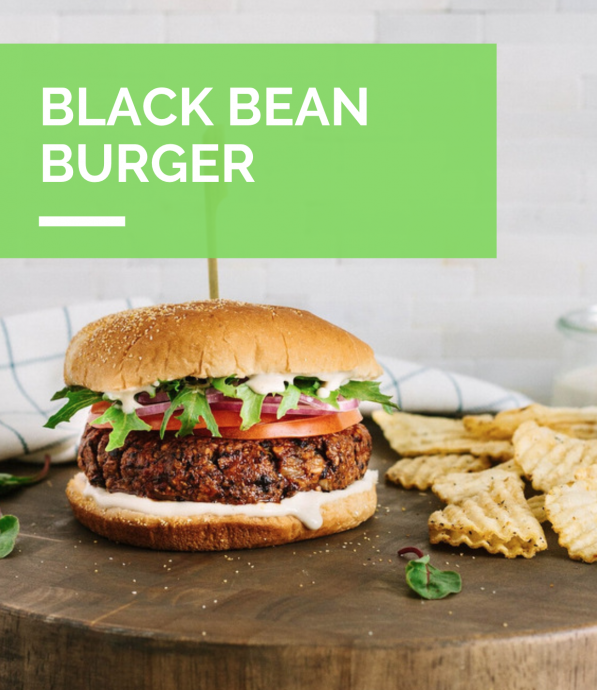 No, not the Texas-style bean burger, which is a beef burger smothered in refried beans, tortilla chips, and Cheez Whiz. This is a literal bean burger made from actual beans. Far from tasting like bland hippie food from the '70s, these are full of assertive flavor, creamy on the inside and wonderfully crisp on the outside. The batter is quite soft, so you'll need to form the patties directly in the pan, using a spoon to keep things neat and intact. To save on cleanup, use the same skillet for sautéing the onions and cooking the burgers. You won't need to haul out the food processor or dirty 3 pans to whip them up. Nope – this black bean burger recipe comes together in one bowl in under 30 minutes, cooking time included.
Make black bean burgers for a laid-back summer cookout or for a quick weeknight dinner at any time of year. Another great thing about this recipe? It uses basic ingredients! You likely have all of them on hand already!
Ingredients
2 to 3 tablespoons olive oil
½ cup finely minced red or yellow onion
Two 15-ounce cans black beans (about 3 cups cooked beans)
1 large egg, well beaten
1 cup toasted breadcrumbs
2 teaspoons ground cumin
2 teaspoons minced garlic
Approx. ½ teaspoon salt
1/8 teaspoon freshly ground black pepper (or more, to taste)
Directions
Step 1
Place a large (10-to 12-inch) heavy skillet over medium heat. After about a minute, add 1 tablespoon of the olive oil and swirl to coat the pan. Add the onion, and cook in the center of the pan, stirring often, for 3 to 4 minutes, or until the onion softens. Set aside to cool slightly.
Step 2
Set a colander in the sink and pour in the beans; give them a quick rinse and allow them to drain thoroughly. Transfer the drained beans to a medium-large bowl, and use a potato masher or fork to mash them as smooth as possible. Stir in the beaten egg, breadcrumbs, cumin, garlic, salt, and pepper. Scrape in the cooled onion, and mix until thoroughly combined.
Step 3
Wipe out the skillet with a paper towel, and then return the skillet to medium heat. After about a minute, add 1 tablespoon of the olive oil and swirl to coat the pan. Use a large spoon to scoop 4 equal mounds of the bean mixture into the hot pan, and then, with the back of the spoon, flatten and push each one into a patty about ½-inch thick and 3½ inches in diameter. Cook, undisturbed, for about 3 minutes, or until golden brown on the bottom.
Step 4
Use a metal spatula to carefully loosen each burger and flip it over, adding a little more oil if the pan seems dry. (If the burger falls apart as you turn it, don't worry. Just push it back into shape and keep cooking.) Cook on the second side for about 3 minutes, or until the undersides are nicely browned.
Once you've cooked your black bean burgers, it's time to eat! I love to serve this homemade burgers with arugula, lettuce, tomato, red onion, and dill pickles for crunch. You may round out the meal with mixed grilled vegetables, corn on the cob, or a summer salad. Enjoy!