Chicken Florentine Meatballs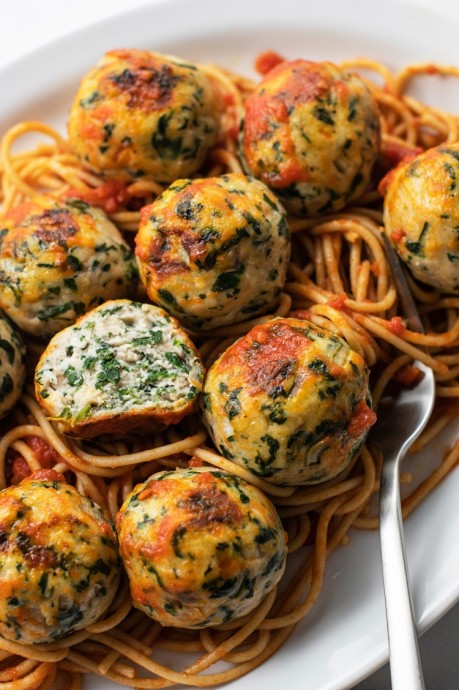 These Chicken Florentine Meatballs are healthy and delicious. What more can you ask for than a super tender bite, packed with spinach, cheese, and garlic-rich flavors? Better yet, they're ready in fewer than twenty minutes! They make an instant appetizer, or you can turn them into a family dinner by letting a pot of tomato sauce simmer as you mix, shape, and bake these meatballs. Each meatball has fewer than 50 calories, too. There's no reason you shouldn't allow yourself to be seduced by our easy Chicken Florentine Meatballs.
A cup of spinach goes into the meatball mixture to help hold everything together. It also adds nutritional benefits because of its vitamins, minerals, and phytonutrients. I was a little surprised how green the meatballs looked when they were raw, and they turn a gorgeous color once they're browned under the broiler. The spinach color stayed a lovely vibrant green, creating an intriguing and eye-catching dish. The kids won't be able to protest.
Ingredients:
2 eggs lightly beaten
1 cup spinach chopped and cooked
1/2 cup yellow onion chopped
3 cloves garlic minced
1/2 cup fat-free grated parmesan
1/2 cup whole wheat panko bread crumbs
1 pound ground chicken