Whole Orange Cake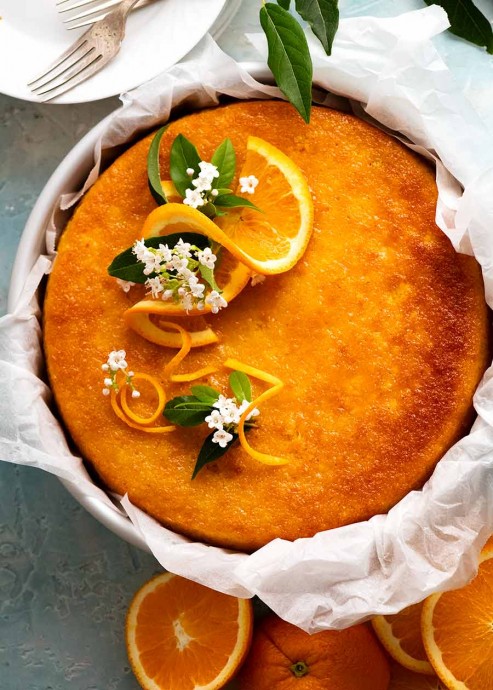 I love this Orange Cake for the nutty flavor, damp and sticky texture, the beautiful orange flavor, and the unique method by which it's made: blitzing whole oranges, rind and all, with almond meal, sugar, eggs and baking powder. No oil, no butter, no whisking! Terrific easy cake for gatherings. And because it's gluten-free and lactose free, everyone can enjoy it! If you've spent a lifetime peeling oranges, it might sound strange that this cake is made using a whole orange.
But here's the thing – as with lemons and limes, most of the orange flavor is in the rind. You will get way better orange flavor by mixing 1 tablespoon of finely grated orange zest into, say, Vanilla Frosting, rather than 1/4 cup of orange juice. Not to mention that zest doesn't make frostings and cake batters watery. So – we like rind for flavor. But we don't like the pith – the white part underneath the skin – because it's bitter. Solution: boil the oranges. This removes the bitterness as well as softening the oranges to make them "jammy", which makes the cake damp and sticky inside.
Unlike some cakes, I think an unadorned Orange Cake is lovely because it has a gorgeous golden orange color. Also, this cake is so moist and full of flavor, you do not need nor want a frosting.
Ingredients:
2 medium oranges, fresh whole with rind on - any type
1 1/4 tsp baking powder
6 large eggs , at room temp
1 1/4 cups white sugar
2 3/4 cups almond meal / ground almonds