Strawberries and Cream Cookies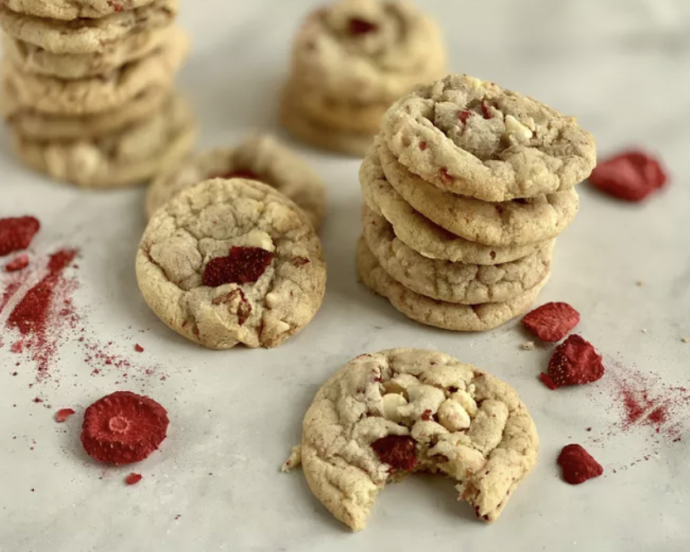 Strawberry and cream is just about the best flavor combo imaginable. Whether showcased simply with bowls of lightly sweetened whipped cream or more elaborately as shortcakes, it is always a crowd-pleaser.
Equal parts chewy center and crispy edges, this vanilla cookie gets the strawberry and cream treatment with white chocolate chips and freeze-dried berries. The tart strawberries pack an incredible flavor punch (gorgeously studded throughout each cookie) which balances with the sweetness of the chips beautifully.
The cookies are assembled in a single bowl and come together in about 10 minutes, tops. Don't skip melting the butter as it contributes to the cookies' chewiness and easy-peasy assembly. Breaking up the strawberries a bit before adding to the dough makes for a nice distribution of both flavor and color—you can do so by crushing them in your fist before sprinkling them over the bowl.
Ingredients
2 1/2 cups all-purpose flour
1 1/4 teaspoons kosher salt
1 teaspoon baking soda
8 ounces (1 cup) unsalted butter, melted
1 3/4 cups sugar
1 tablespoon pure vanilla extract
2 large eggs
1 cup white chocolate chips, plus more for pressing into cookies
1 cup freeze-dried strawberries, crushed, plus more for pressing into cookies