Carrot Cake Jam Grilled Cheese Sandwich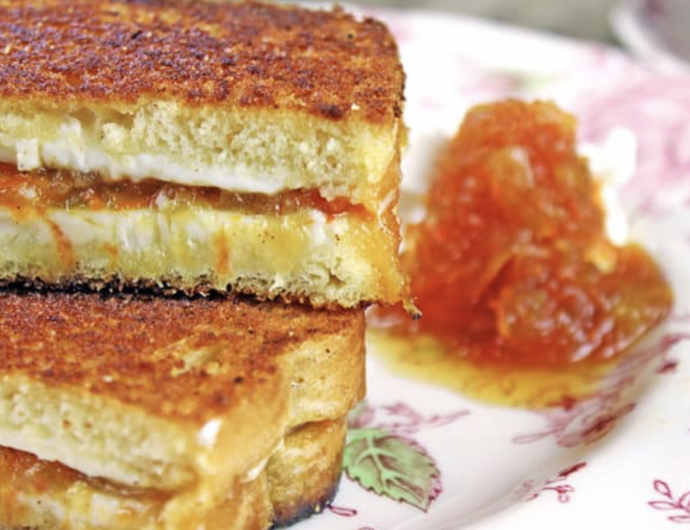 Carrot Cake Grilled Cheese Sandwiches made with homemade Carrot Cake Jam, cream cheese and buttery griddled bread! Cut into sticks or triangles for a fun kid friendly sandwich, or skip the butter and griddle and serve these up at your next tea party!
This sandwich is pretty much everything that I love about grilled cheese sandwiches and about making your own take on recipes! Let's take a trip down grilled cheese lane. Back in the day as a really young kid my mom would make grilled cheese with pita bread and Armenian cheeses so you know I am open to a grilled cheese variation! It wasn't until high school that I started making the classic American "cheese" version of a grilled cheese. Then I woke up to how AWFUL processed cheese was and I started experimenting with cheeses/fillings.
I started with jalapeno jack cheese! It was great, I even started adding sliced jalapenos. Then I did jalapenos and cream cheese. A huge breakthrough came when I was given a gift of homemade jalapeno jelly and I used it in place of jalapenos in my cream cheese grilled cheese. WOW. Seriously. One of my favorite versions a grilled cheese to this day! Jalapeno slices, jalapeno jelly and cream cheese! Then even more customizations started.
Ingredients:
3/4 cup finely grated carrots
3/4 cup chopped , cored, peeled, apples
3/4 cup crushed canned pineapple , including juice
1 1/2 tablespoon lemon juice
1/2 teaspoon ground cinnamon
1/4 teaspoon ground nutmeg
1/8 teaspoon ground cloves
1 package (1.75 oz.) low-sugar powdered fruit pectin
1 1/2 cups sugar
8 ounces cream cheese
12 slices Hawaiian Bread
6 tablespoons butter