Gluten Free Texas Toast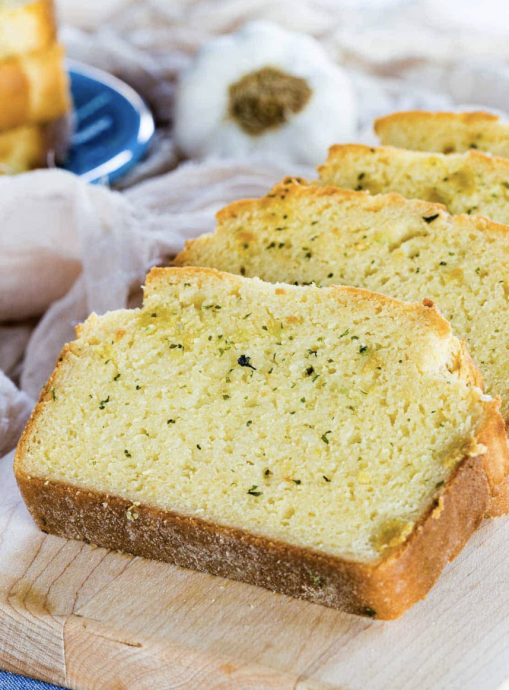 You can enjoy thick, crisp and buttery homemade Texas Toast that's also gluten-free! This delicious garlic toast is easy to make at home (bread and all) and the perfect side for tons of family meals.
They say that everything is bigger in Texas, even the toast! As it happens, we're big fans of thick-cut and buttery, garlicky toast in my family. The bigger the toast, the closer to carb heaven, right? Finding affordable gluten-free versions of classic frozen Texas toast is sometimes a challenge, though. So, naturally, I set out to make my own.
I'll just go ahead and say it: this homemade Texas toast turned out amazing! Making Texas toast from scratch means all the comforting carbs, without the gluten. It doesn't get better than thick slices of bread smothered in butter and toasted with herbs! This recipe has become my go-to side dish for literally everything. Soups, Chili, saucy Barbeque… Heck, I'm even replacing the bread in my sandwiches with gluten-free garlic toast at this point. I'm obsessed.
Ingredients:
For the gluten free sandwich bread:
1 1/2 cups water
3 tablespoons honey
2 1/2 teaspoons active dry yeast
3 cups gluten-free all-purpose flour (recommended: Pillsbury Multi-Purpose or King Arthur Measure for Measure)
1 teaspoon xanthan gum (in addition to what is in some blends)
4 teaspoons baking powder
1 teaspoon salt
2 teaspoons apple cider vinegar
1/4 cup oil
2 large eggs
For the gluten free Texas toast:
1 loaf unsliced gluten free bread sandwich bread (you'll need about half to three-quarters of the loaf)
1/2 cup unsalted butter (1 stick)
1 tablespoon olive oil
3 cloves garlic finely minced
1/2 teaspoon Kosher salt
1/2 teaspoon garlic powder
1/2 teaspoon dried parsley or Italian seasoning