Creamy one-pan orzo with chicken, mushroom & spinach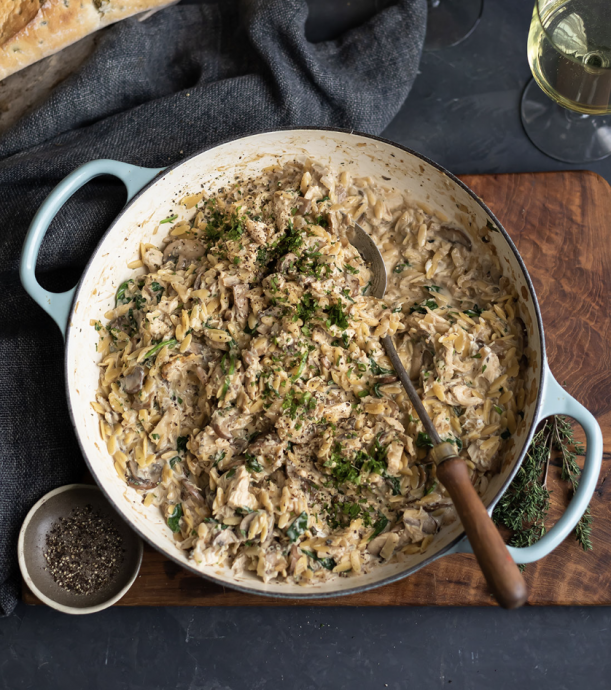 This creamy one-pan orzo with chicken, mushroom, and spinach is a delightful medley of flavors that will leave you craving more. With minimal cleanup and maximum taste, it's the perfect meal to impress your family or guests without the fuss. Enjoy the creamy goodness and savor each comforting bite.
Everyone loves a one-pan dinner and I'm loving this easy one-pan orzo pasta with mushrooms, spinach, and chicken. Garlic and thyme add delicious flavour along with the umami-laden mushrooms & goat's cheese. This dish comes together in about 20 minutes, and I used leftover store-bought rotisserie chicken.
Ingredients:
2 Tbsp olive oil
1 brown onion finely chopped
250gms portobello mushrooms, sliced
2 tsp thyme leaves stripped from stalks (approx. 3)
3 cloves garlic, minced
80ml Perderberg Chenin Blanc
1 cup orzo pasta
2 cups chicken stock (or ½ chicken and ½ mushroom stock)
2 cups shredded chicken (half a small rotisserie or roast chicken)
2 handfuls baby spinach leaves / 100gms (roughly chopped)
100 – 125ml cream (1/2 cup)
50gms creamy goats' cheese/ Chevin
30 – 40gms freshly grated Pecorino Romano or Parmesan (and more to serve)
Salt and black pepper to taste
1 Tbs finely chopped Italian parsley