Yogurt Marinated Chicken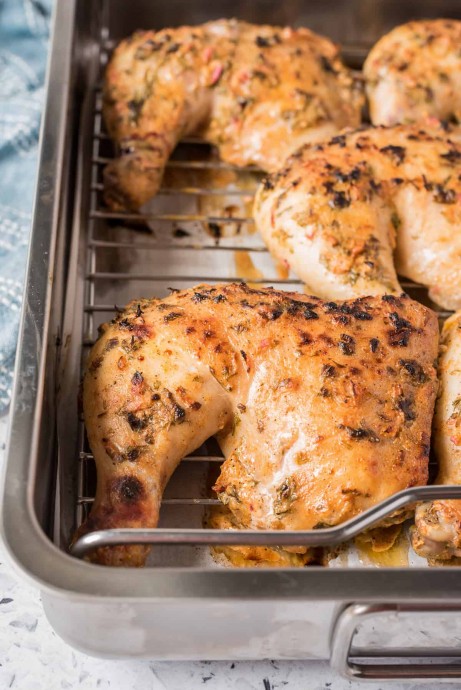 This yogurt marinated chicken comes out so perfectly juicy! Easy to make, it's seasoned with Mediterranean spices and each bite is wonderfully flavorful.
There's no dry chicken in sight with this wonderfully flavorful yogurt marinated chicken! The yogurt adds a wonderful taste and the result is tender and juicy chicken! I love marinating chicken to add flavor to it. Yogurt slow marinates the chicken and it results in an amazing pull apart texture. Acid marinades, like lemon or vinegar based, act very quickly and if you are not careful can actually leave the chicken chewy and dry.
The chicken needs to be marinated before you cook it, so when it comes to dinner time, all you have to do is pop it in the oven. It's easy: It takes around 10 minutes to prep this recipe and the cooking time is hands off. Low carb: Each serving contains about 8g of carbohydrates so it's great for those following a low carb or keto diet. It is also high in protein.
Easy enough for an easy weeknight meal and fancy enough you can serve it to guests!
Ingredients:
5 chicken leg quarters thigh attached
1 cup plain yogurt
2 tablespoons oil
½ cup of lemon juice juice of two lemons
Zest of two lemons
1 ½ teaspoons salt
½ teaspoon pepper
1 ½ teaspoons paprika
1 teaspoon cumin
¼ teaspoon cinnamon
⅛ teaspoon cayenne pepper
6 garlic cloves minced
¼ cup red onion minced
½ cup fresh parsley chopped
½ cup fresh cilantro chopped