Blueberry Corn Salad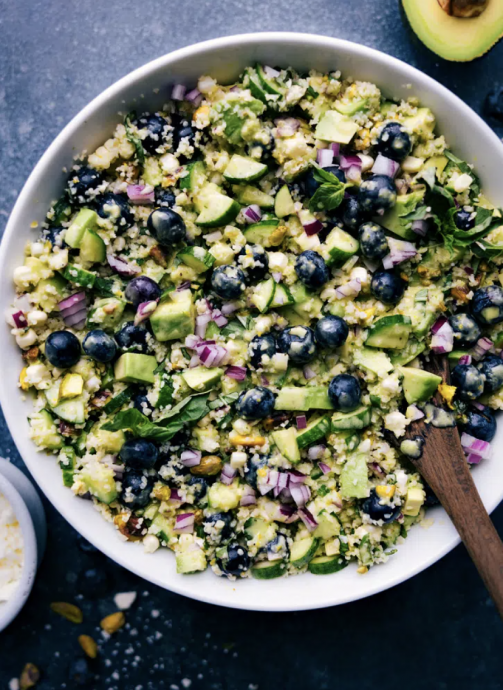 Step into a world of sweet and savory delights with our Blueberry Corn Salad. This vibrant salad brings together the best of both worlds, featuring the juicy goodness of fresh blueberries and the delightful crunch of sweet corn kernels.
The combination of flavors in this salad is simply irresistible. Each bite is a delightful medley of sweetness from the blueberries, a burst of freshness from the corn, and a hint of tanginess from the dressing.
Tossed with a light and zesty vinaigrette, this salad is not only a treat for your taste buds but also a feast for your eyes with its colorful and enticing presentation.
Whether served as a refreshing side dish or a light lunch, our Blueberry Corn Salad is a perfect addition to any summer gathering or as a wholesome meal to brighten up your day. So get ready to savor the taste of summer with this delicious and nutritious salad.
INGREDIENTS
3/4 cup fine bulgur
1-1/2 cups fresh blueberries
1-1/2 cups diced English cucumber
1/2 cup chopped pistachios
1-3/4 cup fresh sweet corn
1 medium avocado, diced
1 packet (.75 oz) fresh basil, separated
Optional: 1/2 cup diced red onion, 1/2 cup goat (or feta) cheese
DRESSING
1/3 cup each: extra virgin olive oil, lemon juice (plus 1 tsp lemon zest)
1 tablespoon honey
2 teaspoons Dijon mustard
1-1/2 teaspoons minced garlic
Fine sea salt & pepper