Nashville Hot Chicken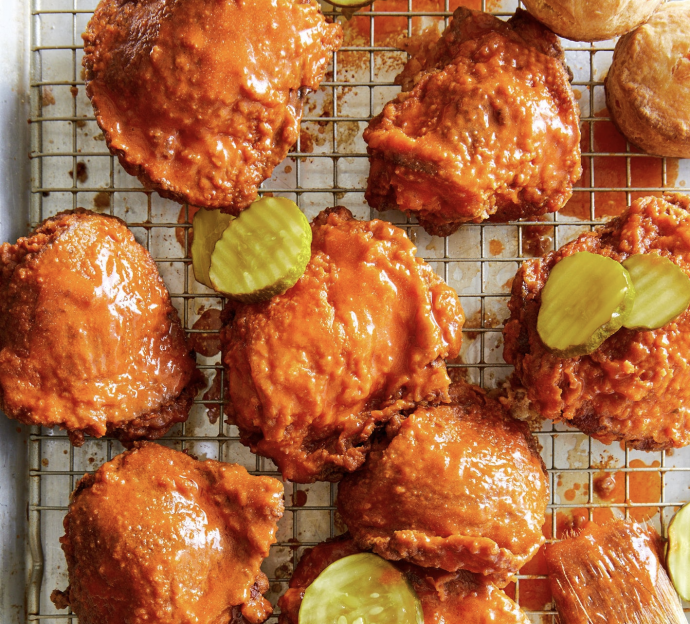 Get ready to turn up the heat with our sizzling Nashville Hot Chicken! This iconic dish hails from the vibrant city of Nashville, Tennessee, and is renowned for its fiery and flavorful profile.
At the heart of this dish is succulent and juicy fried chicken, perfectly seasoned and coated with a fiery blend of spices. The secret to its signature heat lies in the fiery hot sauce that's generously drizzled over the crispy chicken, infusing it with a bold and unforgettable kick.
The contrast of the crispy coating and the mouthwatering tenderness of the chicken creates a tantalizing texture that will leave your taste buds craving for more.
Traditionally served with pickles and white bread to balance the heat, this Nashville Hot Chicken is not for the faint of heart but is sure to delight spice enthusiasts and fried chicken aficionados alike.
Whether you're a fan of spicy dishes or looking to experience an authentic Nashville specialty, this hot chicken recipe is a must-try. So roll up your sleeves, grab a glass of cold drink, and get ready to savor the zesty and fiery flavors of Nashville with this bold and delicious Hot Chicken!
Ingredients:
Kosher salt and freshly ground black pepper, to taste
2 teaspoons onion powder
1 teaspoon garlic powder
2 cups buttermilk
2 large eggs
4 pounds bone-in, skin-on chicken thighs
4 cups self-rising flour
8 cups canola oil
FOR THE BUTTER MIXTURE
½ cup unsalted butter
¼ cup hot sauce
½ teaspoon cayenne pepper