Thai Coconut Curry Ramen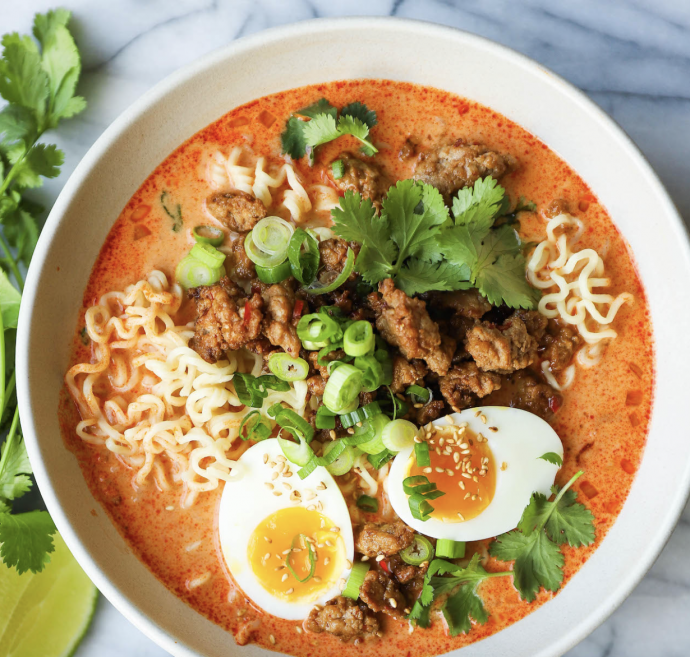 Thai Coconut Curry Ramen is a delightful culinary fusion that brings together the best of Thai and Japanese flavors into a single, satisfying bowl. This dish exemplifies the beauty of combining diverse culinary traditions to create something entirely new and incredibly delicious.
At its heart, this recipe marries the creamy richness of Thai coconut curry with the beloved comfort of Japanese ramen. The result is a harmonious blend of aromatic Thai spices and the soothing allure of ramen's silky broth. Imagine each spoonful offering a symphony of tastes - the gentle heat of red curry, the earthy essence of coconut milk, and the refreshing notes of lemongrass and kaffir lime leaves.
The foundation of Thai Coconut Curry Ramen lies in its flavorful broth. Coconut milk forms the base, infusing the dish with a velvety texture and a hint of sweetness. Traditional Thai seasonings such as red curry paste, lemongrass, and galangal contribute layers of complexity, while the umami-rich dashi broth evokes the essence of Japanese ramen.
Ingredients:
2 (3.5-ounce) packages instant ramen noodles, flavor packets discarded
1 ½ tablespoons canola oil
2 medium shallots, diced
3 tablespoons red curry paste
2 tablespoons tomato paste
2 cloves garlic, minced
1 tablespoon freshly grated ginger
1 (13.5-ounce) can coconut milk
4 cups chicken stock
FOR THE PORK
2 teaspoons toasted sesame oil
1 pound ground pork
2 cloves garlic, minced
1 fresno chili, seeded and minced
2 tablespoons fish sauce
Kosher salt and freshly ground black pepper, to taste
FOR SERVING
4 soft boiled eggs, peeled and halved
½ cup fresh cilantro leaves
2 green onions, thinly sliced
1 tablespoon toasted sesame seeds