Ratatouille with Farro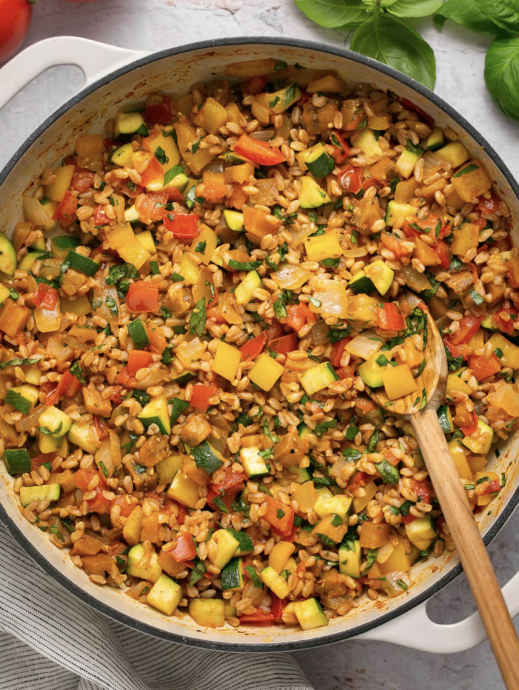 Ratatouille with Farro is loaded with summer vegetables, like tomatoes, zucchini, bell peppers, and eggplant. Enjoy it as a vegetarian main or as a side dish with a protein.
There's no need to turn the oven on – this easy summer Ratatouille recipe is made all on the stove. The stewed vegetables are served over farro and finished with lots of fresh basil.
Ingredients:
3/4 cup uncooked pearled farro
1 1/2 tablespoons extra-virgin olive oil, divided
Kosher salt and freshly ground black pepper
1/2 small yellow onion, roughly chopped
3 garlic cloves, minced
1/2 medium eggplant, peeled and cut into 1/4-inch cubes
1 tablespoon tomato paste
1/2 tablespoon finely chopped fresh thyme
1 medium zucchini, cut into 1/4-inch dice
1 yellow bell pepper, cut into 1/4-inch squares
2 large vine-ripened tomatoes, or 3 small, cut into 1/4-inch dice
1/2 cup fresh basil leaves, finely chopped