Coconut Flour Pancakes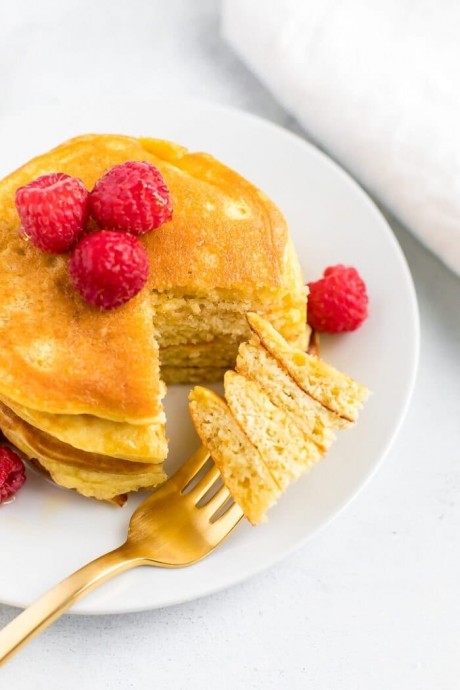 An easy recipe for coconut flour pancakes that are golden in color and perfectly fluffy. Add your favorite mix-ins and toppings to make them your own. These pancakes work great if you're gluten-free, paleo or keto.
Coconut flour has a ton of fiber and, because it is made from dried coconut, is high in healthy saturated fat which may help lower bad cholesterol. Like I mentioned, it's gluten-free, grain-free and vegan so it's a great option for anyone with food intolerances or allergies.
Coconut flour absorbs a lot more liquid than all-purpose or almond flour. While it cannot be substituted as a 1:1 ratio for all-purpose flours in recipes, it can be a substitute! It can be finicky to work with so I recommend following a recipe that has already tested and proved that the sub works, but if you want to experiment, the general rule of thumb is to substitute 1/4 cup-1/3 cup coconut flour for every 1 cup of all-purpose flour. And you'll likely need to increase the amount of eggs and liquid to get the right consistency.
I think people are intimidated by homemade pancakes and waffles and often opt for boxed versions. But the truth is, these coconut flour pancakes are so dang simple to whip up… it'll take you no more than five minutes longer than if you poured out the batter from a box. To make these coconut flour pancakes, simply mix the dry ingredients (flour and baking powder) together.
Ingredients:
1/4 cup coconut flour
1 teaspoon baking powder
2 eggs
1/4 cup almond milk + 1/2 – 1 Tablespoon more if needed
1 Tablespoon maple syrup*
1/2 teaspoon vanilla
non-stick spray
Toppings
maple syrup, fruit, nut butter