Cilantro Lime Salmon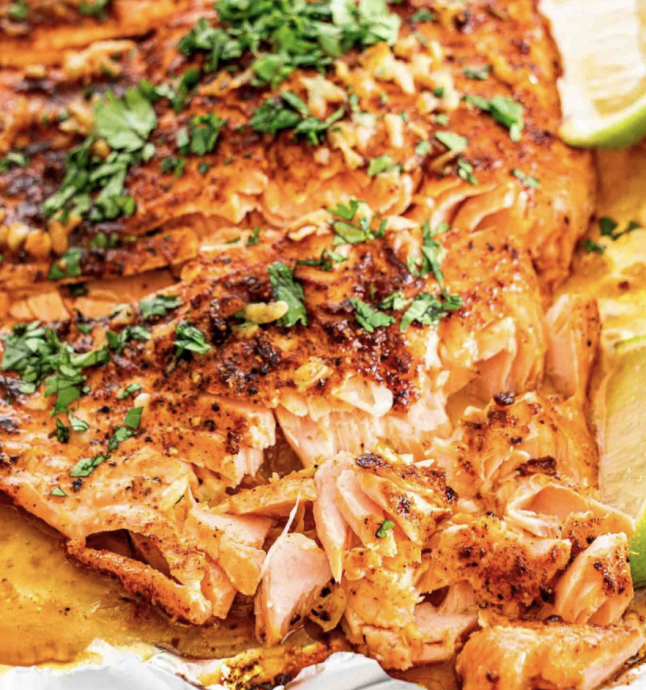 This Cilantro Lime Salmon is a fresh, lean, low calorie dinner perfect for any night of the week. We're talking bright lime, super fresh cilantro, a sweet buttery honey sauce, with a flavorful rub. All served atop salmon, this dish will have you in a tropical state of mind soon enough! Did I mention it's ready in only 30 minutes?
This salmon is packed with flavor. Melted butter, freshly squeezed lime juice, sweet honey, and minced garlic come together to make a sauce that's both rich and refreshing. Drizzled generously over the salmon, this sauce brings a tangy sweetness that beautifully balances the salmon's robust flavor. The whole masterpiece is then sprinkled with a handful of fresh cilantro, adding an extra layer of brightness to this exceptional dish.
Ingredients:
1 lime (cut into slices)
1 teaspoon smoked paprika
1 teaspoon chili powder
½ teaspoon salt
½ teaspoon pepper
¼ cup butter (unsalted, melted)
juice of 2 limes
2 tablespoons honey
4 cloves garlic (minced)
2 pounds salmon (1 large fillet)
¼ cup fresh cilantro (chopped)