Creamy Cajun Pastalaya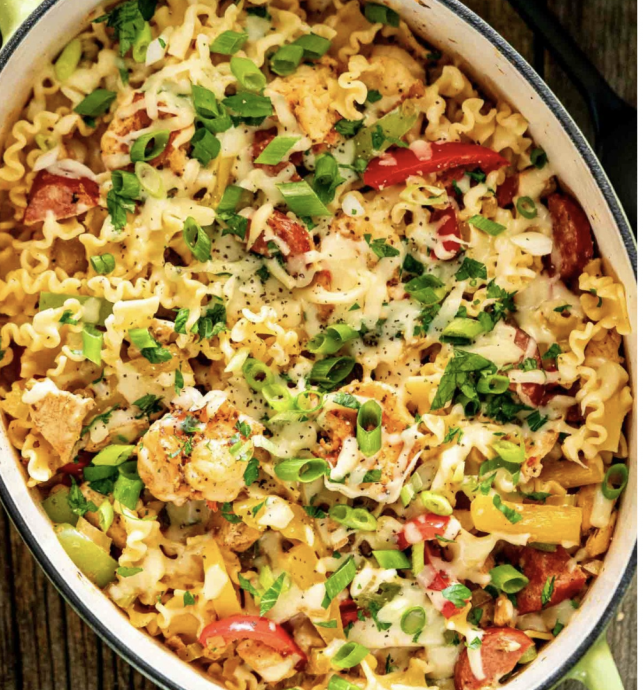 Indulge in the rich and hearty symphony of flavors in my Creamy Cajun Pastalaya. This exquisite blend of shrimp, chicken, and andouille sausage cooked in a decadent creamy sauce guarantees an unforgettable culinary journey.
Elevate your pasta game with my Creamy Cajun Pastalaya, a dish that's robust, flavorful, and incredibly satisfying. Each bite introduces you to a harmonious blend of succulent shrimp, tender chicken, and hearty andouille sausage, all bathed in a decadent, richly spiced Cajun cream sauce. This isn't just dinner; it's a culinary journey to the heart of Cajun cuisine.
The luxurious cream sauce clings to each strand of pasta, turning this dish into an indulgent, full-flavored feast. The blend of textures and flavors — from the juiciness of the meats to the mellow heat of the Cajun seasoning — is truly a celebration on your palate.
Ingredients:
12 ounce dry pasta
8 ounces shrimp (peeled and deveined)
2 tablespoons cajun seasoning
1 tablespoon olive oil
6 ounce chicken breast (boneless and skinless, cut into small bite size pieces, about 1 large chicken breast)
1 link andouille sausage ( or smoked sausage, cut into slices)
1 medium onion (chopped)
1 stalk celery (chopped)
3 cloves garlic (minced)
2 medium bell pepper (any color, julienned)
1½ cups chicken broth (low sodium)
½ cup heavy cream
salt and pepper (to taste)
1 cup Fontina cheese (shredded)
3 green onions (chopped, for ganish)
2 tablespoons fresh parsley (chopped, for garnish)