Mongolian Beef Noodles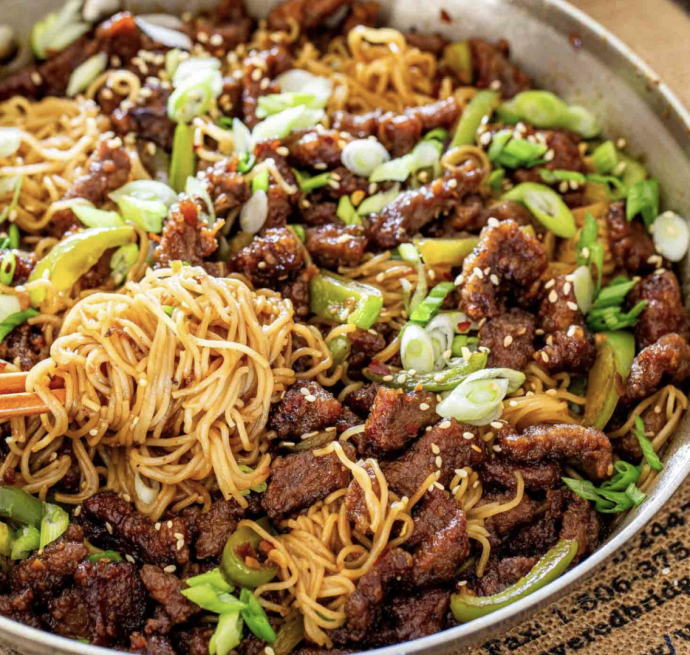 Mongolian Beef Noodles combines tender flank steak, bell peppers, and silky ramen noodles, all coated in a lusciously savory sauce. With each bite more delicious than the last, this recipe is a testament to the magic that happens when simple, quality ingredients meet thoughtful preparation.
Sure, ramen may have a reputation as the college kid's go-to meal, but that doesn't mean we can't elevate it. Let's think of it not as a humble bowl of noodles but as a blank canvas for culinary creativity, taking it from just edible to entirely exciting.
Mongolian Beef has always been my take-out weakness – the flavors, the textures, it's simply irresistible. But instead of dialing up the local takeaway, I decided to channel that craving into crafting this delectable dish at home. Trust me, not only is it ridiculously simple to make, but it also outshines any restaurant version.
Ingredients:
1½ pound flank steak
¼ cup cornstarch
¼ cup vegetable oil
1 green bell pepper (sliced into thin strips)
8 ounce ramen noodles (uncooked)
3 green onions (chopped)
For Sauce
2 tablespoon sesame oil
¾ cup soy sauce (low sodium)
⅔ cup brown sugar (packed)
1¼ cup chicken broth (low sodium, or no sodium added)
4 cloves garlic (minced)
¼ teaspoon red pepper flakes