Corn, Avocado, and Quinoa Salad with Marinated Tomatoes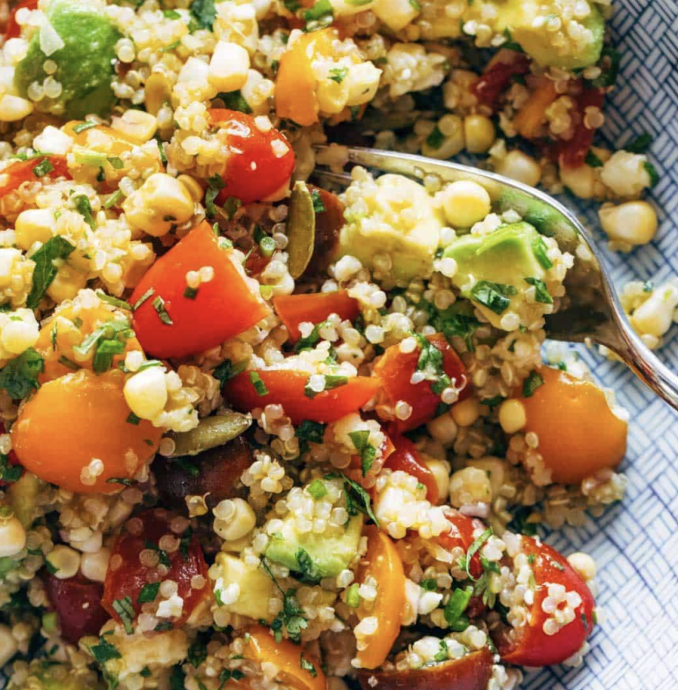 The perfect summery quinoa salad – fresh corn, buttery avocado, nutty quinoa, juicy marinated tomatoes, and tons of fresh herbs.
Do I love this luscious and juicy summery salad, which does, in fact, contain quinoa? YES.
If you are a quinoa hater – I think I can get you on board with this quinoa salad. I really do.
This gem of a salad is a win for anyone who:
Can appreciate a really good textured salad – I mean, look at all the little bite sizey bits!
Prefers to hang out in the sun instead of spending hours cooking
Does or does not like quinoa – we accept all
Appreciates a good meatless meal
Goes weak in the knees for big, juicy, summery flavor
Ingredients:
1 cup quinoa, uncooked
4 ears raw sweet corn, kernels cut off the cob
1–2 cups marinated tomatoes (see recipe below)
1 shallot, minced
lots of fresh cilantro and chives, minced
1–2 limes, juice and zest
olive oil to taste
1 teaspoon kosher salt
1/2 cup Cotija cheese (optional)
1–2 avocados, diced
Marinated Tomatoes:
1 pound cherry or grape tomatoes, halved or quartered
1 clove garlic, finely grated
2 tablespoons olive oil
1 tablespoon vinegar or lemon juice
1 tablespoon freshly minced herbs (I like parsley)
salt to taste (I use about 1/2 – 3/4 teaspoon kosher salt)