Salt and Pepper Chicken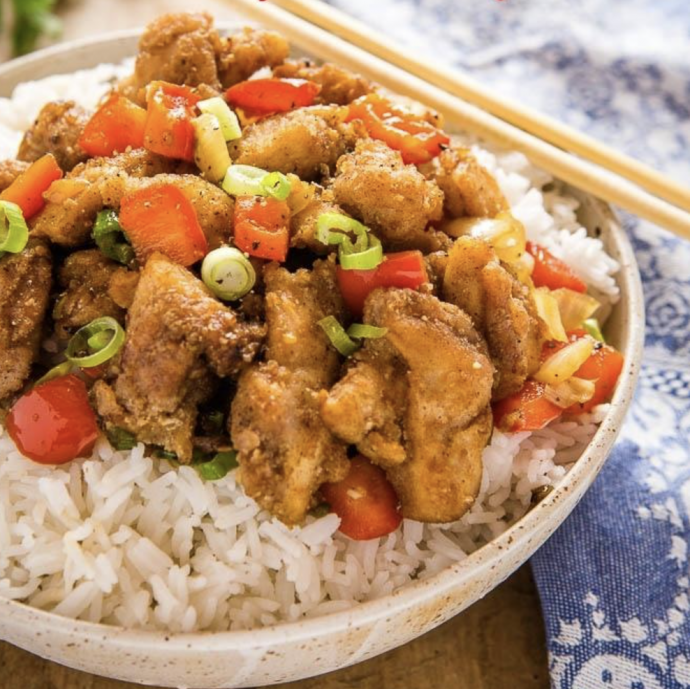 This Salt and Pepper Chicken is a delicious and easy Chinese take-out-style meal – spicy crispy chicken with sautéed veggies served over rice!
We love a good take-out-style meal in our family and this Salt and Pepper Chicken is a family favourite! It's pretty simple to make with minimal ingredients, and it's a delicious (and somewhat healthier) alternative to ordering out on a busy weeknight!
You can serve this chicken recipe with steamed rice or rice noodles, and feel free to add in some extra veggies on the side (like steamed carrots and broccoli) for some added nutrition. Our family loves the crispy chicken in this dish and paired with the sweet peppers and the savoury soy sauce, it's the perfect take-away-style meal that's a lot easier to make than it looks!
Ingredients:
8 boneless skinless chicken thighs approximately 2 pounds
1 1/2 teaspoons salt
1 teaspoon black pepper
1 tablespoon Chinese 5-spice powder
10 tablespoons cornstarch
1 large red bell pepper chopped
1/2 cup chopped green onions
1 large white or yellow onion
1 small red chili pepper or use a small jalapeno, optional
5 cloves garlic minced
2-3 tablespoons soy sauce
1/4 cup vegetable oil canola or sunflower oil works well