Mango Chicken With Coconut Rice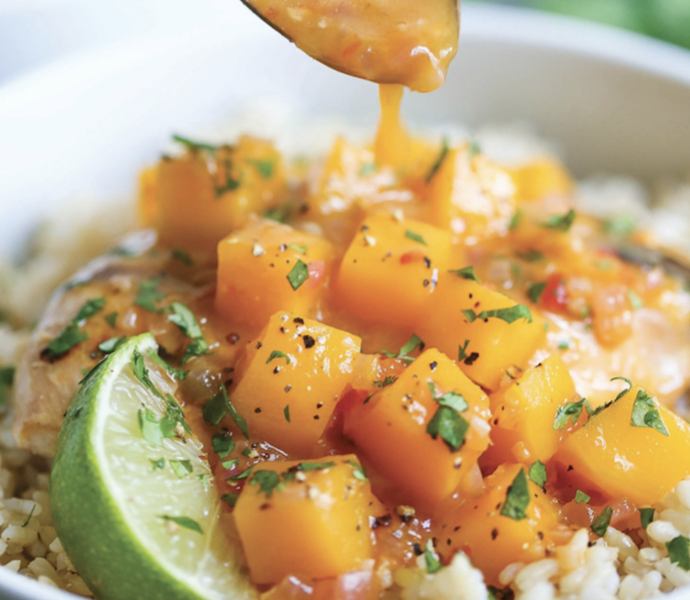 Embark on a culinary journey that marries the sweetness of mango with the exotic charm of coconut in the form of Mango Chicken with Coconut Rice. This delightful dish is a testament to the fact that gourmet flavors can be achieved with utmost ease and speed, taking less than 30 minutes to come to life.
Imagine succulent boneless chicken breasts, seasoned to perfection and grilled to a tender finish, resting atop a bed of homemade coconut brown rice. What sets this dish apart, however, is the crown jewel – the mango sauce. This sauce is a harmonious blend of tanginess and sweetness, achieved through the infusion of mango nectar, freshly grated ginger, and a touch of sambal oelek, a ground fresh chili paste that adds a hint of spiciness.
Ingredients
4 boneless, skinless chicken breasts
Kosher salt and freshly ground black pepper, to taste
1 tablespoon olive oil
3 cloves garlic, minced
1 red onion, diced
1 mango, diced
½ cup mango nectar
1 tablespoon freshly grated ginger
1 ½ teaspoons sambal oelek, ground fresh chile paste
Juice of 1 lime
2 tablespoons chopped fresh cilantro leaves
FOR THE COCONUT BROWN RICE
1 cup brown rice
¼ cup coconut milk